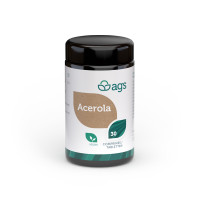 ---
Acerola extract, very rich in natural vitamin C and polyphenols.
---
Acerola is a tree native to South America, particularly Peru, Brazil and Venezuela. It is particularly popular thanks to its famous fruit similar to the traditional cherry, the Barbados cherry. Although acerola has always been used in tropical countries to treat various ailments, it was not until the 1950s that science became interested. It turns out its features are standout! In addition to being a remarkable and natural source of vitamin C, L-ascorbic acid (20 to 30 times more than orange), its content of flavonoids, anthocyanins, minerals, group B vitamins, vitamin A and beta-carotene gives it immunostimulating, antioxidant, toning, anti-infectious and remineralizing properties. The miracle fruit! Naturally, acerola then invaded the market and, very quickly, its name was found everywhere. But are all the food supplements around us that appropriate the name "acerola" equal? Well no ! In 75% of cases, the consumer, concerned about his health, is deceived. The acerola molecule that he thinks he is buying for his well-being is in fact only a synthetic vitamin resulting from a chemical process developed from the synthesis of glucose and which bears the familiar name of ascorbic acid. The ill-treatment to which she is subjected obviously does not confer any beneficial properties on her and would rather have the unfortunate tendency to be harmful to health. The ESE Group laboratory offers you a vitamin c. 100% natural ACEROLA with incredible virtues!
---
Recommended dosage
½ tablet / day to chew or suck. Tablets scored in 4.
---
Contraindications
Do not administer to pregnant or breastfeeding women, or to children under 12 years of age. Do not use in case of kidney problems (gout, stones).
---
Guaranteed without
• L-ascorbic acid • Gluten • Yeast • Lactose • Soy • Sugar • Preservatives • Synthetic flavors, fragrances and colorings
---
Precautions for use
Do not exceed the recommended daily dose. Keep out of the reach of children. This food supplement does not replace a varied and balanced diet or a healthy lifestyle.
---
Conservation
Store in a dark, dry place at a temperature between 15 and 25 ° C.
---
Composition
Composition per tablet (divisible into 4):% AR Acerola extract (Malpighia glabra) 1000 mg 312% of which natural vitamin C (L-ascorbic acid) 250 mg
---
Excipients
Flavor enhancer: natural aroma of red fruits. Sweetener: dextrose. Anti-caking agent: magnesium stearate.
---
Ingredients
Dextrose, acerola extract (Malpighia glabra), natural aromas of red fruits, magnesium stearate.