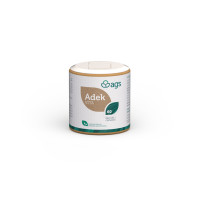 ---
4 fundamental vitamins: A, D, E and K, combined in a single formula to boost your vitality.
---
"ADEK": a term that seems very complex but ... which is not! These are simply 4 basic vitamins: A, D, E and K, all in one formula. ADEK, the 4 in 1 solution to boost your vitality The peculiarities of the "ADEK" vitamins? They are fat soluble, which means the body is able to store them. They each have their roles and benefits but they work together, in synergy. Let's take a closer look. Vitamin A It is involved in many functions of our body and it is essential at all ages of life. It has a powerful antioxidant effect It participates in bone growth, reproduction and regulation of the immune system It plays an important role in vision and the eye's adaptation to darkness Vitamin D It is necessary for the body's metabolism and yet 80% of the Western population is said to be deficient! It is involved in the formation and maintenance of bone mass It plays a crucial role in cell division It is essential for the good absorption of calcium and phosphorus by the intestines It helps maintain the immune system Vitamin E A major antioxidant, it fights against cell aging and prevents certain cardiovascular diseases and cancers. It protects the blood cells (red and white blood cells), which helps to improve the supply of oxygen to the body It participates in blood coagulation, myocardial function, and immunity It contributes to good fertility Vitamin K It is the ultimate blood clotting vitamin! It plays an antihemorrhagic role and also helps to preserve the health of bone tissue. Vitamins that work together, in synergy These 4 vitamins work in synergy and are much more efficient when they "work" together. For example : The combination of vitamins A and E provides a powerful antioxidant effect. The synergy between vitamin D and K2 participates in the proper functioning of bone metabolism. The 4 vitamins are involved in strengthening the immune system. But for these synergies to occur, it is necessary to guarantee a sufficient contribution from each ... Hence the interest in opting for a solution that combines the four, in good quantity and in excellent quality!
---
Recommended dosage
1 capsule per day with the evening meal.
---
Contraindications
Not suitable for people taking coumarin anticoagulants. This supplement is only authorized for people over 18 years old.
---
Guaranteed without
Color, gluten, lactose ...
---
Precautions for use
Food supplements are not a substitute for a varied and balanced diet or a healthy lifestyle. Keep out of the reach of children. Do not exceed the recommended daily dose.
---
Conservation
Store in a dry place.
---
Composition
Composition per capsule: Halibut liver oil * 133 mg of which Vitamin A min. 3750 IU = 1125 µg 140% Natural vitamin E (d-alpha tocopherols) 12 mg 158% Vitamin K2 210 µg 280% Vitamin D3 3000 IU 75 µg 1500% * From sustainable and eco-responsible fishing, MSC certified
---
Excipients
No
---
Ingredients
Halibut liver oil, capsule: fish gelatin, rapeseed oil, glycerol (E422), d-alpha tocopherols, water, menaquinone (vitamin K2) (synthetic) (microbial source), vitamin D3 3000IU.