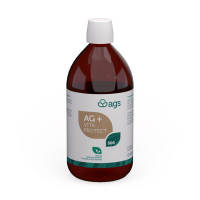 ---
Colloidal silver at 15 ppm (parts per million) composed of ultra pure water, ions and silver particles for enhanced action and 100% assimilation!
---
What is colloidal silver? Colloidal silver at 15 ppm (parts per million) is a liquid, colorless and odorless solution composed of ultra pure water, ions and particles of silver (Ag +) are perfectly dissolved in water. . 100% natural . 100% bioavailable = 100% assimilable by the body High quality manufacturing Specific silver electrodes: - Made in France and analyzed by an independent laboratory - Certified authentically pure at 99.997% minimum - Certificate of conformity with standard NF L 00 015 Pharmaceutical grade of water - The water used is not distilled, it is "alive" and ultra pure - Its conductivity is between 0.05 µS / cm and 0.1 µs / cm - Always in motion, it circulates on antibacterial filters to avoid any contamination Production by electrolysis: - Sending a certain electric current over very pure silver electrodes - Use of a very low direct voltage at very low currents - Gentle method which makes it possible to obtain a very stable and very high quality colloidal silver Compliance with manufacturing standards: - Compliance with BPF (good manufacturing practices), ISO 22000 (food supplement) and ISO 22716 (cosmetics) standards - Quality assurance which guarantees the traceability of products, from manufacture to shipment Conservation: Colloidal silver from the ESE Group laboratory is packaged in recyclable pharmaceutical glass (inert material: no exchange between the container and the content). In addition, the glass is amber in order to filter part of the UV rays. No preservatives, chemicals and other substances are added to it. We thus guarantee you a natural colloidal silver of quality consistent with what surrounds it (container, packaging ...). When used externally, colloidal silver has an action on the skin, mucous membranes, eyes: Reduces redness: mosquitoes, eczema, burns Has an antiseptic power: wounds, mycoses, mouth ulcers, warts ... Has healing power and skin regeneration Purifies the skin: various pimples
---
Recommended dosage
For prevention: 5 to 15 ml (period of epidemics) / day. As initial treatment: take a higher dose for a short time. In support of a chronic condition: 15 to 35 ml / day over a long period. NB: 5 ml corresponds to 75 μg of silver. * these dosages are for adults; for children under 12, divide the dose by 2. For external use. Apply colloidal silver with a cotton ball or spray on the area to be treated. Leave on for 10 minutes. Do not put in contact with metal utensils.
---
Contraindications
No
---
Guaranteed without
- Gluten - Yeast - Lactose - Soy - sugar - Preservatives - Synthetic flavors, fragrances and colorings
---
Precautions for use
Do not exceed the recommended daily dose. Keep out of the reach of children. This food supplement does not replace a varied and balanced diet or a healthy lifestyle. Do not dilute the product. To avoid making the product ineffective, do not use a metal spoon, prefer the use of the measuring cap. Do not put in contact with metallic objects.
---
Conservation
Store in a dark, dry place at a temperature between 15 and 25 ° C.
---
Composition
Colloidal silver concentrated at 15 ppm (parts per million).
---
Excipients
No
---
Ingredients
Ultrapure water, silver ions 15 ppm (15 mg / l).