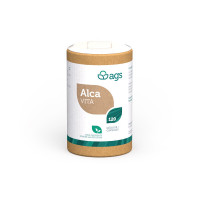 ---
Food supplement based on Tripotassium and Magnesium citrates helping to rebalance the body's acid / base balance.
---
What is acid-base balance? The overconsumption of acidifying foods (dairy products, animal proteins, sugars, certain fruits and vegetables, ...), as well as other factors such as alcohol, smoking, drugs, lack of sleep, stress , lack of water, ... create an imbalance in the body, acidosis. To fight against this phenomenon and neutralize this acidity, the body will draw on its reserves of alkalanizing molecules (chemical processes called buffer systems). As these reserves are depleted, acidity builds up. This leads to AML - Latent Metabolic Acidosis. The balance is upset! Signs of an imbalance: • Frequent muscle pain • Osteoporosis • Loss of bone density • Carries, dental loosening • Abnormal hair loss, fragile nails • Fatigue, lack of energy (especially in the morning) • Digestive heartburn • Very bad breath, loaded tongue • Chilliness • Kidney stones, urinary discomfort • ... Alca Vita is the perfect food supplement when it comes to fighting acidosis and restoring the acid-base balance!
---
Recommended dosage
3 capsules / day without meals or as recommended.
---
Contraindications
No side effects known at the indicated dose. To be avoided in case of renal insufficiency. Interactions with regular or natural drugs are always possible.
---
Guaranteed without
• Gluten free • Lactose free • Without Conservative agent • Without colouring
---
Precautions for use
Do not exceed the recommended daily dose. Keep out of the reach of children. This food supplement does not replace a varied and balanced diet or a healthy lifestyle.
---
Conservation
Store in a dark, dry place at a temperature between 15 and 25 ° C.
---
Composition
Composition for 3 capsules:% AR Anhydrous potassium citrate (K) 900 mg of which elemental potassium 345 mg 17% Anhydrous Magnesium Citrate (Mg) 450 mg of which elemental magnesium 73 mg 19%
---
Excipients
No excipient.
---
Ingredients
Anhydrous potassium citrate, anhydrous magnesium citrate, capsule: pullulan.