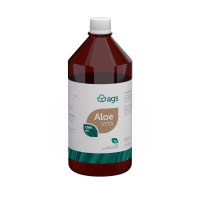 ---
Aloe Vita from organic farming to improve gastrointestinal health (digestion, ulcers, acidity ...)!
---
Aloe Vita for optimal health of the mucous membranes and microbiota! Aloe Vera is one of the most powerful and well-known medicinal plants. Due to its many properties, Aloe Vera is widely used not only in medicine, but also in cosmetology and in the food industry. In particular to treat burns, sunburns, scarring and the fight against cellular aging. In addition, it is extremely useful for optimizing gastrointestinal health (cleansing the intestinal flora, fighting constipation, improving digestion, etc.) but also for strengthening the immune system and improving blood circulation. What are the benefits of Aloe Vita? OPTIMIZES GASTROINTESTINAL HEALTH - Cleanses the intestines and the body - Powerful antibacterial, antiviral and antifungal activity in particular against different species of Candida, in particular Candida parapsilosis, Candida krusei and Candida albicans - Has anti-inflammatory effects on the intestines - Improves intestinal transit - Fights constipation - Improves digestion by its content in amylase and lipase - Balances the bacterial flora (effective after antibiotic treatments to repopulate the intestinal flora) - Improves absorption of nutrients - Facilitates waste disposal - Normalizes the ph - Reduces enzymes - Eliminates intestinal fungi - Reduces stomach discomfort (relieves heartburn) POWERFUL HEALING Promotes healing: Aloe vera promotes both the proliferation of fibroblasts and the production of hyaluronic acid and hydroxyproline, which play an important role in the remodeling of the extracellular matrix during the healing of lesions. NATURAL REMEDY FOR MUCOUS - Treats burns, wounds, stings, skin inflammation because Aloe Vera improves blood circulation around the wound and significantly speeds up the healing process - Rebuilds, hydrates the skin and regenerates skin cells. - Due to its anti-inflammatory properties, Aloe Vera is very effective against acne - Controls the amount of sebum accumulated on the face and the skin in general. - Eliminates ulcers, gingivitis and intra-oral inflammation called stomatitis - Has an important action also in the prevention against periodontitis - Reduces inflammation of the gums and periodontium ANTI-INFLAMMATORY Aloe Vera has an inhibitory effect on the arachidonic acid pathway
---
Recommended dosage
Or 50ml before breakfast for a general effect on the body Or 25ml before the main meal to promote its digestive effect
---
Contraindications
No
---
Guaranteed without
• Gluten free • Lactose free • Without Conservative agent • Without colouring
---
Precautions for use
Shake before use. Food supplements are not a substitute for a varied and balanced diet or a healthy lifestyle. Keep out of the reach of children. Do not exceed the recommended daily dose.
---
Conservation
Once opened: keep in the fridge and use within 30 days
---
Composition
For 1 liter: Aloe vera, juice and pulp at 99% * - 990ml * From organic farming
---
Excipients
No
---
Ingredients
Aloe vera (Aloe barbadensis Miller), citric acid, ascorbic acid