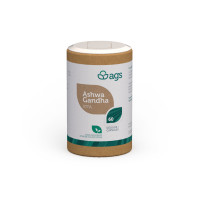 ---
Highest, highly bioavailable concentration of Ashwagandha root extract.
---
What exactly is Ashwagandha? Ashwagandha (Withania somnifera Dunal) is one of the most potent herbal remedies in traditional Indian medicine, also known as Indian ginseng or winter cherry. Only the roots are used because it is they which contain the molecules, whinaloids and alkaloids, responsible for the exceptional therapeutic effects of the plant! Ashwagandha is an adaptogenic plant, in other words, it helps the body to adapt to any stressful situation. It is one of the rare plants having significant effects on the psychological and physiological aspects of human functioning! The multiple properties of this wonder of Ayurvedic medicine! Numerous clinical studies on Ashwagandha, more specifically its roots, have shown the incredible virtues of this medicinal plant: - Reduces stress and anxiety - Increases cortisol levels - Improves memory and cognitive performance - Reduces sugar surges - Helps maintain normal thyroid function - Helps improve endurance - Helps increase muscle strength, size and recovery rate - Helps maintain a normal weight - Helps stimulate sexual function in men and women - Helps maintain testosterone levels in men A real treasure that nature and its plants offer us! Ashwagandha KSM-66®, the most concentrated root extract on the market! For maximum effectiveness, Ashwagandha KSM-66 ® contains only the root of the plant, without any addition of leaves, in order to produce a quality extract and derive maximum health benefits from it! This extract is the result of 14 years of research in a family business which, even today, only works with Ashwagandha. The result is a unique and patented extraction process combining traditional extraction methods with the most modern techniques! The manufacturer of Ashwagandha KSM-66 ® is the only one with its own farms, testing laboratories, production, research and distribution center. This allows the control of materials upstream to downstream. The quality and origin of the product are therefore guaranteed! Any possibility of counterfeiting, for example containing the leaves of the plant, is ruled out. The ESE group laboratory offers the best Ashwagandha extract on the market: KSM-66®. Ashwagandha KSM-66 ® is the highest and most bioavailable concentration of root extract on the market, maintaining the balance of all the natural active constituents of the plant!
---
Recommended dosage
1 capsule per day without food or as advised by your healthcare professional.
---
Contraindications
Not recommended for pregnant or breastfeeding women. Interactions with regular or natural medications are always possible. Interaction with sedative drugs such as barbiturates, benzodiazepines and ethanol. Increases the production of GABA. Studies which induce side effects or toxicity in this case have not been found. When using Ashwagandha Vita, it is recommended to avoid stimulants such as coffee, black tea, cola and chocolate.
---
Guaranteed without
• Gluten free • Without Conservative agent • Without colouring
---
Precautions for use
Food supplements are not a substitute for a varied and balanced diet or a healthy lifestyle. Keep out of the reach of children. Do not exceed the recommended daily dose
---
Conservation
Store in a dark, dry place at a temperature between 15 and 25 ° C.
---
Composition
Composition for 1 capsule: Ashwagandha (KSM-66 ®) 600 mg of which withanolides 5% 30 mg
---
Excipients
No
---
Ingredients
Ashwagandha (KSM-66®), capsule: pullulan.