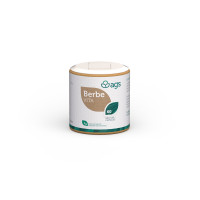 ---
Decreases insulin resistance and normalizes blood sugar.
---
Did you know that berberine is one of the most powerful natural active ingredients? In particular, it facilitates digestion, reduces the risk of cardiovascular disease, etc. But it is known above all for its action on the regulation of blood sugar levels, which makes it possible to treat diabetes! But what exactly is berberine? Berberine is an isoquinoline alkaloid extracted from various plants used in traditional Chinese and Ayurvedic medicine (India, the oldest medicine in the world!) (By proxy through the herbs that contain it). Its benefits are numerous: The main thing is to regulate blood sugar (or blood sugar level). By stimulating the APMK enzyme, this natural active is able to convert lipids and glucose into cellular energy, preventing fat from being stored in the body. AMPK is not only responsible for the onset of diabetes, but also for abnormally high cholesterol levels and obesity. Therefore not only reduces LDL (bad cholesterol), but also significantly increases HDL (good cholesterol). Berberine will also act by inhibiting another enzyme: PCSK9. It is the latter that is responsible for bad cholesterol. And it is precisely this combined effect on lowering blood sugar and cholesterol, which will explain another benefit of berberine: considerably reducing the risk of cardiovascular disease. These are indeed two risk factors for cardiovascular disease ... In other words, Berberine decreases insulin resistance, which makes the hypoglycemic hormone insulin more effective. It increases glucose use and energy production (glycolysis), helping the body to break down sugars inside cells. Decreases the production of sugar in the liver. Slows down the breakdown of carbohydrates in the gut. Increases the number of beneficial bacteria in the gut.
---
Recommended dosage
2 capsules / day during meals. Studies show that a dose of 1 g per day distributed over the different meals gives a better result than the reference treatment (Metformin).
---
Contraindications
Do not give to pregnant or breastfeeding women.
---
Guaranteed without
• Gluten free • Lactose free • Without Conservative agent • Without colouring
---
Precautions for use
Do not exceed the recommended daily dose. Keep out of the reach of children. This food supplement does not replace a varied and balanced diet or a healthy lifestyle.
---
Conservation
Store in a dark, dry place at a temperature between 15 and 25 ° C.
---
Composition
Composition for 2 capsules: Berberine aristata (HCI 97%) 500 mg
---
Excipients
No harmful excipients.
---
Ingredients
Berberine aristata, bulking agent: Oryza sativa, capsule: pullulan.