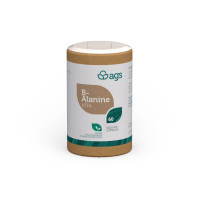 ---
Extremely effective in improving physical performance, reducing the signs of aging, stimulating immunity and weight loss, β-Alanine Vita will become the great ally of athletes!
---
What is Beta-Alanine? How does it affect the body? Beta-alanine is a non-proteinogenic amino acid (not essential for protein synthesis). Found in meat, poultry and fish, beta-alanine is a precursor to carnosine, a protein stored mainly in skeletal muscles. In the liver, muscle cells take up beta-alanine and combine it with histidine to produce carnosine, hence its scientific name, β-alanyl-L-histidine. It is from this synthesis that the multiple benefits of beta-alanine arise. But not only ! Indeed, beta-alanine has its own antioxidant properties. To benefit from the therapeutic effects, the intake of carnosine linked to the consumption of meat, poultry or fish is insufficient because it is absorbed by the body and degraded in record time by the enzyme carnosinase. In addition, it would be necessary to consume a lot of it before obtaining a minimum effective dose. In addition, the older the age, the more carnosine levels drop in the body. This reduction is one of the main causes of muscle loss. Hence the benefit of beta-alanine, the most effective way to increase carnosine levels in the blood. What are the benefits of β-Alanine Vita? β-Alanine Vita has antioxidant and immunostimulating properties and anti-glycation (anti-aging) and weight loss actions linked to its muscle building capacities! Multiple studies have shown that beta-alanine supplementation significantly improves physical performance (strength and endurance)! Optimization of muscle contraction (pH) Exercise produces lactic acid in the muscle fiber and generates H + or hydrogen ions. The increase in the concentration of H + causes a drop in the pH of the muscles and induces muscle fatigue. Carnosine (beta-alanine + histidine) stored in muscle cells is released in response to a drop in pH induced by exercise to remove excess H + and help maintain muscle buffering capacity. Hence the importance of the concentration of carnosine in the muscle fiber for better performance during intense exercise. β-Alanine Vita significantly improves muscle fatigue threshold, physical activity performance and the ability of muscle cells to combat oxidative stress by increasing the concentration of carnosine in muscles. The importance of anti-glyaction activity in cell protection! Aging is associated with the formation of advanced glycation end products or "AGEs" in the cell and their subsequent toxic accumulation. EFAs are formed when fragments of glucose react with biological molecules such as proteins, nucleic acids and lipids forming so-called "glycated" products which cannot be destroyed or released by the cell where they will accumulate. Aged, wrinkled skin has a higher buildup of glycated proteins. Beta-alanine has anti-glycation activity, that is to say, it will oppose so as to reform the initial protein and thus prevent this phenomenon which accelerates cell aging. Due to this activity, β-Alanine Vita improves the survival of cells and delays their aging, hence its interest in combating the signs of aging! Immunostimulating property Beta-alanine is an immune booster. It allows the elimination of metabolic products formed during the breakdown of proteins and during prolonged physical exertion. Weight loss boosted! The effect on weight loss of β-Alanine Vita is mainly related to its antioxidant and stimulating action of muscle contraction and energy. These actions allow for increased physical activity and protection against low grade inflammation caused by oxidative damage and therefore facilitate weight loss by targeting fat and preserving muscle mass.
---
Recommended dosage
1 capsule per day without meals (preferably between two meals and before sport) or as recommended by your healthcare professional.
---
Contraindications
No
---
Guaranteed without
• Gluten free • Lactose free • Without Conservative agent • Without colouring
---
Precautions for use
Food supplements are not a substitute for a varied and balanced diet or a healthy lifestyle. Keep out of the reach of children. Do not exceed the recommended daily dose.
---
Conservation
Store in a dark, dry place at a temperature between 15 and 25 ° C.
---
Composition
Composition for 1 capsule: Beta-Alanine 600 mg
---
Excipients
No
---
Ingredients
Beta-Alanine, capsule: pullulan.