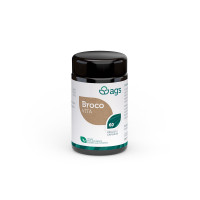 ---
Broco Vita is composed of a high concentration of stabilized sulforaphane and glucosulforaphane extremely effective in supporting liver detoxification (phase 1 and 2) and therefore in the fight against PMS.
---
Broccoli is a vegetable rich in nutrients. The beneficial properties of broccoli include a positive effect on digestion, cardiovascular and immune systems, as well as anti-inflammatory and anti-carcinogenic effects. Additionally, broccoli contains a small amount of sodium and calories and is fat free at all. It also contains significant amounts of fiber, vitamin C, B6 and A, potassium and quite a bit of protein. Broccoli is a rich source of plant pigments and antioxidants. Plant pigments are substances that give plants their color, aroma and taste. According to the American Cancer Research Institute, plant pigments have many beneficial properties. Pigments in broccoli include glucobrassicin, carotenoids, and flavonoids. Antioxidants help neutralize free radicals that can damage cells in the body. Broccoli is also a source of lutein, which is one of the polyphenols, and sulforaphane, a powerful antioxidant, anticancer and detoxifier. It also contains minerals and trace elements, including magnesium, phosphorus and a small amount of zinc and iron. What are sulforaphane and glucoraphane? Sulforaphane is a sulfur-rich compound derived from the naturally occurring chemical group glucosinolates, which is found in cruciferous vegetables and especially broccoli. Glucoraphane is a precursor of sulforaphane. The conversion of glucoraphane to sulforaphane is done by an enzyme called myrosinase. In the body, glucosinolates are broken down into several different compounds, including indoles, nitriles, thiocyanates, and isothiocyanates. Although interesting research on various health benefits has been found on each subgroup, isothiocyanates have received special attention. Of all the isothiocyanates, sulforaphane has been extremely well studied, with a multitude of studies reporting that sulforaphane exhibits a wide range of beneficial biological effects, including antioxidant, anticancer, neuroprotective, and detoxifying activities. The benefits of sulforaphane for women with estrogen predominance, the main cause of the onset of PMS, have been shown by several scientific studies. What is PMS? It is a combination of physical and emotional symptoms that many women experience after ovulation and before their period begins. Researchers believe PMS occurs in the days after ovulation because estrogen and progesterone levels start to drop dramatically if a woman is not pregnant. Symptoms of PMS go away a few days after your period starts because hormone levels start to rise. Some women have their period without any sign of PMS or only with very mild symptoms. For others, the symptoms of PMS can be so severe that it is difficult to do everyday activities like going to work or school. Severe symptoms of PMS may be a sign of PMS. PMS goes away at menopause when there are no more ovulation cycles. After pregnancy, PMS may reappear. According to several studies, women who eat a lot of broccoli are less likely to suffer from PMS. Researchers found that women who ate foods rich in non-heme iron found in plants and especially broccoli were less likely to suffer from the consequences of PMS. Estrogen predominance and PMS Estrogen predominance is a hormonal imbalance in women that occurs when estrogen levels are higher than normal or during an imbalanced estrogen and progesterone ratio. An estrogen imbalance in the body can lead to symptoms associated with PMS such as: - bloating - irritability - Cramps - heavy bleeding - coagulation - headaches - some cravings and often significant weight gain In the long term, estrogen predominance has also been associated with estrogen-related diseases such as polycystic ovary syndrome, fibrocystic disease, fibroids, endometriosis, hormone-dependent cancers, inflammatory disorders, and auto disorders. -immune. To rebalance estrogen in the body, excess estrogen must be metabolized and excreted out of the body. For this process to occur, our detox systems must be working effectively. Although detoxification is a complex and multisystem process, two key aspects must be in place for hormonal rebalancing to occur, namely detoxification of the liver (phases 1 and 2). Hormones exist in the body in many different forms and are converted and metabolized by the liver. For example, estrogen exists in the body in three main forms: E1, E2, and E3. It is the role of the liver to convert the different forms of estrogen into secondary compounds which can then be eliminated from the body via the digestive system. From a dietary point of view, broccoli has been shown to have a powerful effect on the elimination of estrogen because it contains in large amounts various compounds including sulforaphane which has been shown to support both stages of liver detoxification, a process essential for rebalancing excess estrogen levels in the body. Discover Broco Vita composed of a high concentration of stabilized sulforaphane and glucosulforaphane extremely effective in supporting liver detoxification (phase 1 and 2) and therefore in the fight against premenstrual syndrome! Broco Vita is excipient-free & Vegan. It is composed only of concentrated natural ingredients and is free from any unnecessary excipients that are harmful to health.
---
Recommended dosage
1 capsule per day with a meal or as advised by your healthcare professional.
---
Contraindications
Consult your doctor in case of hyperthyroidism or thyroid treatment
---
Guaranteed without
• Gluten free • Lactose free • Without Conservative agent • Without colouring
---
Precautions for use
Do not exceed the recommended daily dose Keep out of the reach of children This food supplement does not replace a varied and balanced diet, nor a healthy lifestyle.
---
Conservation
Store in a dark, dry place at a temperature between 15 and 25 ° C.
---
Composition
Composition for 1 capsule: Broccoli extract 250 mg of which glucoraphanin 5.5% 13.75 mg of which sulphoraphanes 4% 10 mg
---
Excipients
No
---
Ingredients
Broccoli extract (Brassica oleracea), capsule: pullulan