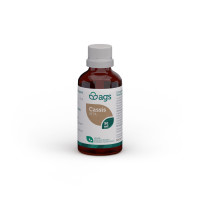 ---
The BIO Blackcurrant Bud, from ESE Group laboratories, encloses cortisol-like polyphenols, that is to say molecules with powerful anti-inflammatory, antiallergic and stimulating effects of energy metabolism!
---
Scientific studies have shown that the Blackcurrant Bud exerts a stimulating action on the adrenal glands and, consequently, an increase in blood cortisol which makes it possible to fight against fatigue by adrenal exhaustion. What are the symptoms of adrenal insufficiency? The main symptoms of adrenal insufficiency are: - Tired - Recurrent and prolonged infections - High inflammation - Inflammatory pain - nervous breakdowns, especially under stress - Hypoglycemia - Hypotension Cassis Vita AGS contains carbohydrates and ascorbic acid. The significant amounts of flavonoids contained in blackcurrant buds are of great importance because they prevent the appearance of cancers, regulate the permeability of the walls of blood vessels and neutralize free radicals. Blackcurrant buds also contain phenolic acids, mineral salts, tannins and coloring polyphenols. But their main characteristic is to contain cortisol-like polyphenols, that is to say molecules that mimic the action of cortisol by attaching to its receptors and producing an effect similar to it, namely effects : - Anti-inflammatory - Hypo-allergenic - Stimulant of energy metabolism In other words, by producing an adequate response to stress that the adrenal glands are no longer able to provide due to insufficient production of cortisol and DHEA. All these components are also contained in the leaves and fruits of blackcurrant, but to a lesser extent. The advantage of buds is that they contain significant amounts (4 to 5 times more) of micronutrients and polyphenols. Blackcurrant buds are used to stimulate the adrenal glands and optimize the stress response. Cassis Vita AGS improves the ability to cope with various stress factors, both physical and mental. Presumably, this anti-stress effect is due to the mechanisms that control the adrenal glands. Blackcurrant buds delay the onset and reduce the intensity of the "anxiety phase" during the body's short and long-term reaction to stress (general adaptation syndrome).
---
Recommended dosage
5 to 15 drops per day between meals, pure or diluted in water.
---
Contraindications
Inform your doctor or pharmacist in the event of pregnancy, breast-feeding or administration to children.
---
Guaranteed without
• Gluten free • Lactose free • Without Conservative agent • Without colouring
---
Precautions for use
Inform your doctor or pharmacist in the event of pregnancy, breast-feeding or administration to children. Food supplements are not a substitute for a varied and balanced diet or a healthy lifestyle. Keep out of the reach of children. Do not exceed the recommended daily dose.
---
Conservation
Store in a dark, dry place at a temperature between 15 and 25 ° C.
---
Composition
For 15 drops: Blackcurrant leaf buds * 22.5 mg * Product from organic farming
---
Excipients
No
---
Ingredients
Vegetable glycerin *, alcohol * (35%), water, blackcurrant leaf buds * (Ribes nigrum). * Product from organic farming.