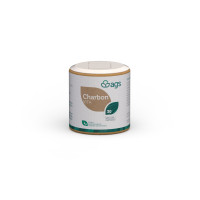 ---
Its formidable absorption capacity (gas, toxins, poison ...) allows Vita Charcoal to cleanse the intestines and prevent the toxins produced from passing the intestinal barrier, creating inflammation and overloading the elimination organs!
---
In the case of vegetable charcoal, unlike our dear essential oils for example, it is not its active ingredients that are at the origin of its properties but its structure ... Strictly speaking, it does not really contain active substances since it is composed almost exclusively of pure carbon. The different stages of obtaining activated vegetable charcoal give it a porous texture, thus developing its major action: its adsorbing power! Adsorption is a phenomenon manifested by the capture of substances on the active porous sites of a solid, in this case vegetable charcoal. The increased pore surface helps trap toxins, bacteria and impurities encountered. Researchers have estimated that just 1 small gram of powdered activated charcoal has an absorption surface of around 1,500 m², or the equivalent of 9 volleyball courts (162 m²) .... And yes! This surface would allow it to adsorb on average 100 times its volume ... Thus, you will understand that these adsorption properties give activated vegetable carbon major actions in the body. What are its common applications? - Detoxification of the body by the absorption of toxins, microorganisms, gases, found in particular in the digestive system and related organs (stomach, small intestine, colon, liver, pancreas, kidneys). Activated charcoal is very useful in some cases of poisoning, for example. - Overall participation in digestive balance. By participating in the adsorption of gases, activated vegetable charcoal helps reduce bloating and plays a real role in digestive well-being. - Detoxifying cure - Digestive problems, stomach aches, bloating, diarrhea, gas - Dysbiosis - Microbial infections (candidiasis, etc.) - Intestinal inflammation - Food poisoning
---
Recommended dosage
Adults: 3 capsules per day to be taken between meals with a large glass of water Children from 12 to 15 years old; 1 to 3 capsules per day to be taken between meals with a large glass of water Use limited to 10 days
---
Contraindications
As this supplement may decrease the absorption of other drugs, they should be administered at a distance from it (more than 2 hours if possible).
---
Guaranteed without
• Gluten free • Lactose free • Without Conservative agent • Without colouring
---
Precautions for use
Food supplements are not a substitute for a varied and balanced diet or a healthy lifestyle. Keep out of the reach of children. Do not exceed the recommended daily dose.
---
Conservation
Do not freeze. Store in a dark, dry place at a temperature between 15 and 25 ° C.
---
Composition
For 1 capsule: Vegetable charcoal 270 mg activated charcoal powder
---
Excipients
No
---
Ingredients
Capsule: pullulan, activated charcoal