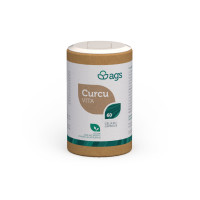 ---
Patented extract of turmeric titrated to 95% curcumin, the bioavailability of which is increased thanks to the presence of Turmerone essential oil, associated with ginger to improve therapeutic synergy
---
Curcu Vita is a combination composed of two curcumas, among the most effective on the market and having been the subject of a large number of studies, Ginger and O.P.C. Biocurcumax® is a brewed extract containing 95% curcuminoids, 100% natural. Its particularity is to also contain essential oils of turmeric, including Turmerone which has among other things the capacity to capture the free radicals of the organism which plays a role of cofactor, which increase their effectiveness with curcuminoids. CurQFen® is a curcumagalactomannoside: Turmeric associated with fenugreek. This combination allows curcuminoids to cross the blood-brain barrier. Ginger (titrated at 6% gingerol) provides, with its anti-inflammatory effect, an increase in therapeutic synergy by further improving digestive assimilation. Patented grape OPCs (Oligo-Proanthocyanidins) are made from a unique blend of monomers and polymers. They have a special affinity with collagen and have an effect on the skin, tendons, ligaments and cartilage, as well as the inner lining of blood vessels.
---
Recommended dosage
2 capsules / day during meals or as recommended.
---
Contraindications
Consult your doctor or pharmacist in case of concomitant use of anticoagulants. Do not use if you are pregnant or breastfeeding. Do not use in children under 6 years old. Do not use in case of obstructions and gallstones. It is recommended to pay attention when taking anti-vitamin K
---
Guaranteed without
- gluten - yeast - lactose - soy - sugar - preservatives - synthetic flavors, fragrances and colorings
---
Precautions for use
Do not exceed the recommended daily dose. Keep out of the reach of children. This food supplement does not replace a varied and balanced diet or a healthy lifestyle.
---
Conservation
Store in a dark, dry place at a temperature between 15 and 25 ° C.
---
Composition
Composition for 2 capsules: Turmeric (Biocurcumax®) 250 mg including 95% curcuminoids 237.5 mg Turmeric (CurQFen®) 250 mg including 35% curcuminoids 87.5 mg including 30% fenugreek fiber 75 mg Ginger 100 mg including 20% of gingerols 20 mg including 2% 6-shogoals 2 mg Grape seed extract 102 mg including 95% polyphenols 96.9 mg of which total OPC * 54.4 mg including 30% of 30 mg monomers * OligoProAnthoCyanidins
---
Excipients
No
---
Ingredients
Curcuma longa root extract (Biocurcumax®, CurQFen®), capsule: pullulan, Zingiber officinale root extract, Vitis vinifera seed extract, fenugreek fibers