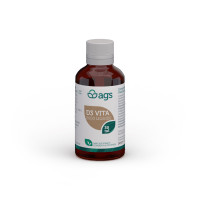 ---
Liquid Vitamin D3 100% natural liquid
---
It is essential for good general health and it should not be neglected ... • Vitamin D3 supports a healthy immune system and reduces the risk of infections. • Vitamin D3 is essential for healthy bones and teeth. Combined with vitamin K2, it protects against fractures and osteoporosis. • Vitamin D3 improves mood and is clinically proven to reduce the risk of depression. • Vitamin D3 is essential for a healthy pregnancy. • In infants, children and adolescents, vitamin D3 is essential for bone growth. • Vitamin D3 is directly involved in the synthesis of sex hormones (testosterone and estrogen) And yet, in Western Europe, up to 80% of the population is said to be deficient ... Are you one of them? This deficiency is usually due to too much exposure to pollutants, inflammatory substances and daily stress, and too little exposure to the sun. More essential than ever to fight an infection Vitamin D deficiency is more of a problem than ever. With an immune system weakened by the lack of vitamin D, our deficient populations have a greater predisposition to bacterial and viral infections. Equally important for children Vitamin D is also crucial in children and adolescents. Since it is responsible for the absorption of calcium, its deficiency can lead to disruption in the formation of bone structures. Our advices : To be effective, vitamin D intake must be continuous To optimize its assimilation, take vitamin D with a meal containing good fats Combine Vitamin D3 with Vitamin K2 (Vit D3K2) for their synergistic effect on bone health The advantages of Vit D3 Vita 2000 liquid: • Easy to ingest • 100% natural • Neutral taste • Liquid form for rapid absorption • Easy adjustment of serving size using a dropper • For children (600 IU) and adults (2000 IU)
---
Recommended dosage
1 drop per day with a meal containing good fats.
---
Contraindications
None to date
---
Guaranteed without
Dye
---
Precautions for use
Food supplements are not a substitute for a varied and balanced diet or a healthy lifestyle. Do not exceed the recommended daily dose. Do not use if the cap protection is broken. Keep out of the reach of children.
---
Conservation
Store in a dry and dark place.
---
Composition
For 30 ml or 1100 drops: Vitamin D3 - cholecalciferol (1,000,000IU / g) 2,334 gr Vitamin E - D-alpha-tocopherol acetate 0.15 gr Olive oil 27.52 ml Per drop: Vitamin D3 (cholecalciferol) 2000 IU - 50 µg 1000% RDI
---
Excipients
No
---
Ingredients
Olive oil, vitamin D3 - cholecalciferol (1,000,000IU / g), vitamin E - D-alpha-tocopherol acetate