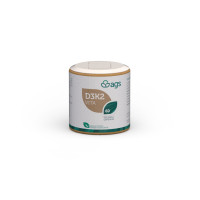 ---
Combination of vitamin D3 3000 IU and vitamin K2 representing 180% of the RDI! 60 capsules
---
Combination of vitamins D3 (3000 IU) and K2 which participate in many physiological functions: - bone structure: Vitamins D3 and K2 help maintain normal bones - cardiovascular system: vitamin K2 promotes normal blood coagulation - cellular system: vitamin D plays a role in the process of cell division - immune system: vitamin D3 contributes to the normal functioning of the immune system Vitamin K2 multiplies the effects of vitamin D3 and together they promote the strengthening of bones.
---
Recommended dosage
1 capsule per day with an evening meal containing good fats or as advised by your healthcare professional.
---
Contraindications
Contraindicated in the case of antivitamin K treatment.
---
Guaranteed without
• Gluten • Yeast • Lactose • Soy • Sugar • Preservatives • Synthetic flavors, fragrances and colorings
---
Precautions for use
Do not exceed the recommended daily dose. Keep out of the reach of children. This food supplement does not replace a varied and balanced diet or a healthy lifestyle.
---
Conservation
Store in a dark, dry place at a temperature between 15 and 25 ° C.
---
Composition
Composition for 1 capsule:% AR Vitamin D3 75 µg = 3000 IU 1500% Vitamin K2 13.5 mg 180% of which menaquinone 135 µg
---
Excipients
No
---
Ingredients
Organic rice starch, capsule: pullulan, vitamin D3 (cholecalciferol), vitamin K2 (menaquinone).