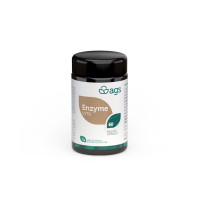 ---
The Enzyme Vita promotes the essential enzymatic production for good digestion. Enzymes cut food up to make it easier to absorb.
---
---
Recommended dosage
1 capsule per meal (lunch and dinner).
---
Contraindications
The use in pregnant women and children under 6 years old is not authorized.
---
Guaranteed without
Coloring, gluten, lactose...
---
Precautions for use
Supplements should not substitute for a varied and balanced diet and a healthy lifestyle. Keep out of reach of children. Do not exceed the recommended daily dose. Ginger contributes to good digestive comfort.
---
Conservation
Keep dry.
---
Composition
Take 2 capsules: Bromelain (5000 GDU/g) 200mg. The papain (6000 USP/mg) is dosageed at 150mg. Ginger (10/1) 100mg alpha-Amylase (50000 SKB) 50mg Lipase (100000 LU) 50mg" translates to "Lipase (100000 LU) 50mg". Protease derived from the fig tree (200FSM) 50mg Trypsin / Chymotrypsin 6/1 50 mg
---
Excipients
Without excipients Without coloring
---
Ingredients
Bromelain, gastro-resistant plant-based capsule (DRcaps™): hydroxypropylmethylcellulose (HPMC), rice starch, papain, ginger (Zingiber officinale), bulking agent: Oryza sativa, amylase, lipase, protease from Ficus carica, trypsin / chymotrypsin, rapeseed oil (Brassica napus L.).