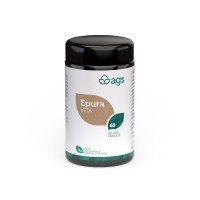 ---
Epura Vita is a formulation based on 5 plants and superfoods extremely important in the process of detoxification and for the proper functioning of the elimination organs.
---
Epura Vita is a formulation based on 5 plants and superfoods extremely important for the detoxification process and for the proper functioning of the elimination organs. It is composed of : - Chrysanthellum americanum, - Artichoke - Milk thistle - Dandelion - Black radish These 5 plants are found in Epura Vita at significant dosages which have been determined on the basis of scientific literature. The interest of Epura Vita is in the combination of these 5 plants whose virtues are complementary and allow a good detoxification of the whole body by stimulating: • the functioning of the elimination organs • cleaning of mesenchymes (liquid and semi-liquid tissues allowing intercellular exchanges) • the functioning of the organs of the whole body through the processes of chelation, cleaning and elimination operated by the elimination organs and the metabolic processes of detoxification What are the benefits of these plants? Chrysanthellum americanum: The "Shen-nong Treatise on Roots and Herbs" (Shennong bencaojing). This ancient Chinese pharmacopoeia book describes chrysanthellum as the best anti-aging remedy. In Chinese medicine, chrysanthellum is used to treat various conditions such as eye disease, drowsiness, rheumatism, and infections. It is well known that these various properties of chrysanthellum are due to its action on the liver. In particular, it allows: - improve lipid status (LDL, HDL, cholesterol, triglycerides) - to increase the production of bile salts - regulate liver enzymes (ALAT, ASAT, etc.) This multi-level action on the liver, known and recognized today, may partly explain these anti-aging benefits throughout the body. Chrysanthellum contains: - beta-carotene, precursor of vitamin A, - large amounts of potassium, calcium and other minerals - trace elements: iron, magnesium and phosphorus - group B vitamins (choline, folic acid, niacin, riboflavin) - vitamin C Chrysanthellum has antibacterial and antiviral properties and reduces bacterial infections such as Staphylococcus, E. coli, Streptococcus, Corynebacterium diphtheria and B. Dysenteriae. Artichoke: The artichoke has many healing properties: - diuretic, recommended in the case of chronic and acute nephritis, since it significantly increases the volume of urine and helps to eliminate urea and harmful substances accumulated in the kidneys and liver - due to the elimination of toxins, the positive effects of artichokes can be observed in cases of urticaria or various forms of itching - the artichoke helps treat digestive disorders, cleanses the liver, detoxifies the body and lowers cholesterol levels and is very beneficial for diabetics - notable results have been obtained with the use of artichoke in cases of diseases of the digestive tract manifested by constipation, enteritis, vomiting, intestinal fermentation, colitis, hemorrhoids and appetite stimulation Artichoke is recommended for: - chronic hepatitis - cirrhosis of the liver - biliary dyskinesia (called "lazy bile") - intestinal infections - hypercholesterolemia - obesity - atherosclerosis - drop - liver allergies - asthenia Milk thistle: Milk thistle is a very effective antioxidant and anti-inflammatory. It is used to destroy and neutralize various toxic substances (detoxification) in particular through its action on the liver. It significantly contributes to the treatment of diseases of the liver, gallbladder and other organs. The toxin content of blood and lymph largely depends on the effectiveness of liver detoxification. The liver cleans all tissues in the body, including body fluids. Therefore, it is important to keep the detoxification process at an optimal level of activity. Milk Thistle naturally protects the liver from the harmful effects of pesticides, heavy metals and even poisons. The silymarin contained in Milk Thistle has antioxidant properties and is used as a remedy for various metabolic and hepatic diseases. In cancer, for example, the liver plays a very important role in eliminating toxic metabolites produced by cancer cells. This is why some studies show a very interesting effect of Milk Thistle in cancer. Silymarin is also known to have anti-diabetic properties by improving insulin sensitivity. Dandelion: - cleanses the blood - rejuvenates the body - strengthens the immune system Since ancient times, dandelion has been considered a valuable diuretic and choleretic drug. The healing properties of dandelion flowers: they contain a lot of carotenoids, saponins, vitamin C, as well as vitamins B1 and B2, B3, E, protein, iron, phosphorus, manganese, potassium and a lot of calcium. They also contain carotenoids, which are particularly beneficial for vision in adults and children. In addition, the triterpene glycosides contained in dandelion influence the process of tissue regeneration. Dandelion also contains sterols, tannins, lipids such as linoleic acid, mucus and wax. The roots of the plant contain 24% inulin. This composition gives it exceptional detoxifying properties. It regenerates the liver in the case of hepatic cirrhosis and eliminates toxic substances through liver detoxification. Dandelion also has remarkable antioxidant and anti-inflammatory properties, which gives it a protective role for the liver against oxidative stress produced by enzymes in phase 1 of detoxification called cytochrome P450. These are an important source of free radicals. Dandelion is one of the best protectors of the liver against the action of free radicals produced by cytochrome P450 enzymes. Black radish: The nutrients in black radish include dietary fiber, vitamins C, A, B, and E, iron, magnesium, and potassium. With its detoxifying properties and high content of vitamins B and E, black radish is able to protect the skin from inflammatory conditions and prevent oxidative stress, leading to the appearance of wrinkles and age spots. All this is possible thanks to its action on the liver, enzymes and antioxidant molecules. Glutathione is one of the most important antioxidants which is responsible for preventing the build up of toxins in the liver. As you get older, your glutathione levels drop. Black radish dramatically increases glutathione levels. In addition to the latter, black radish contains a significant amount of vitamin C. This gives black radish antimicrobial and immune system strengthening properties.
---
Recommended dosage
3 capsules per day during meals
---
Contraindications
Do not use if you are pregnant or breastfeeding.
---
Guaranteed without
• Gluten free • Lactose free • Without Conservative agent • Without colouring
---
Precautions for use
Do not exceed the recommended daily dose Keep out of the reach of children This food supplement does not replace a varied and balanced diet, nor a healthy lifestyle.
---
Conservation
Store in a dark, dry place at a temperature between 15 and 25 ° C.
---
Composition
Composition for 3 capsules: Chrysanthellum extract 375 mg Artichoke extract 375 mg of which cynarin 18.75 mg Milk thistle extract 105 mg of which silymarin 84 mg Dandelion extract 322.8 mg Black radish extract 322.8 mg
---
Excipients
No
---
Ingredients
Capsule: pullulan, extract of Chrysanthellum americanum (L.) Vatke, extract of Cynara scolymus, extract of Taraxacum officinalis, extract of Raphanus sativus nigra, extract of Silybum marianus.