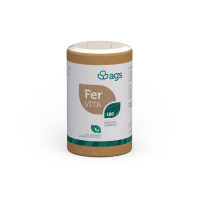 ---
Iron bisglycinate (14 mg).
---
This aminochelated iron formula in the form of bisglycinate is the most bioavailable and the best absorbed by the body.
---
Recommended dosage
1 capsule / day without meals.
---
Contraindications
Iron supplementation is always done on the basis of a blood test.
---
Guaranteed without
• Gluten • Yeast • Lactose • Soy • Sugar • Preservatives • Synthetic flavors, fragrances and colorings
---
Precautions for use
Take iron separately from all vitamin supplements, mainly copper, zinc and vitamin C (Fenton reaction). Do not exceed the recommended daily dose. Keep out of the reach of children. This food supplement does not replace a varied and balanced diet or a healthy lifestyle.
---
Conservation
Store in a dark, dry place at a temperature between 15 and 25 ° C.
---
Composition
Composition for 1 capsule:% AR Iron bisglycinate 94 mg of which elemental iron (15%) 14 mg 100%
---
Excipients
No harmful excipients.
---
Ingredients
Organic rice starch, capsule: pullulan, iron bisglycinate.