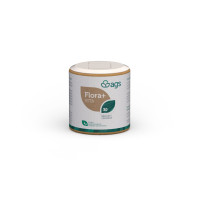 ---
Flora + Vita is an innovation from ESE Group laboratories providing a synergy of 6 probiotic strains. In other words, it is a contribution of beneficial bacteria to restore the balance and the health of your intestinal flora and thus reduce the risk of associated pathologies.
---
Abdominal pain, bloating, gas, transit disorders (constipation and / or diarrhea), lactose intolerance ... Functional intestinal disorders affect the comfort of life of thousands of people every day! The ESE Group laboratory offers Flora + Vita an innovative and extremely effective solution in the management of these functional intestinal disorders! Flora + Vita has a patented double-layer micro-encapsulation technology: An outer layer A hydrocolloid polysaccharide matrix that protects bacteria against moisture, heat and mechanical pressure -> optimization of the manufacturing, storage and distribution process An inner layer A protein matrix that protects bacteria against stomach acid and bile salts -> delayed release in the small intestine depending on pH 100 times more protection! The effectiveness of Flora + Vita is proven by a high-quality and published clinical study showing that the synergy of the strains provided at the total daily dose of 10 billion bacteria, or the equivalent of a single capsule per day, allows an improvement. significant symptoms of microbiota imbalance. For optimal and enhanced efficacy, Flora + Vita provides the synergy of the strains in a DRcaps ™ capsule of plant origin with delayed and targeted release which improves: - Their resistance to stomach acids - Their reinforced protection up to the small intestine - Their increased stability in the face of humidity The plus at AGS: Synergy of 6 probiotic strains for complete management of functional intestinal disorders. Innovative dual-layer micro-encapsulation technology for 100x greater protection compared to standard lactic acid bacteria. DRcaps ™ gastro-resistant delayed-release capsule for a targeted and optimized action.
---
Recommended dosage
1 capsule per day without food or as advised by your healthcare professional.
---
Contraindications
No
---
Guaranteed without
• Gluten free • Lactose free • Without Conservative agent • Without colouring
---
Precautions for use
Do not exceed the recommended daily dose. Keep out of the reach of children. This food supplement does not replace a varied and balanced diet or a healthy lifestyle.
---
Conservation
Store preferably away from light. After opening, keep cool.
---
Composition
Composition for 1 capsule (DRcaps ™): Micro-encapsulated lactic ferment strains 10 billion whose : Lactobacillus acidophilus 1.66 billion Lactobacillus rhamnosus 1.66 billion Bifidobacterium bifidum 1.66 billion Bifidobacterium longum 1.66 billion Bifidobacterium lactis 1.66 billion Streptococcus thermophilus 1.66 billion
---
Excipients
No harmful excipients.
---
Ingredients
Organic acacia fiber, gastro-resistant capsule (DRcaps ™) hydroxypopylmethylcellulose (HPMC) of plant origin, Lactobacillus acidophilus, Lactobacillus rhamnosus, Bifidobacterium bifidum, Bifidobacterium longum, Bifidobacterium lactis, Streptococcus thermophilus