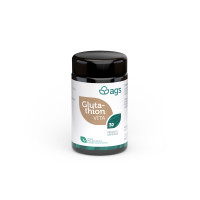 Glutathione Lipo Vita - Capsules
---
Origin: Europe Glutathione is the most important and effective of the endogenous antioxidants. Simply put, Glutathione is the first line of defense for the body against oxidative stress and multiple xenobiotics (exogenous toxins such as benzene, heavy metals, pesticides, etc.) that constantly attack our cells and enzymes.
---
---
Recommended dosage
1 to 3 capsules per day
---
Contraindications
No known contraindications to date
---
Guaranteed without
Gluten-free Dairy Free Without preservative. Without coloring.
---
Precautions for use
Dietary supplements do not replace a balanced and varied diet or a healthy lifestyle. Keep out of reach of children. Do not exceed the recommended daily dose. Store in a dry place.
---
Conservation
Keep dry
---
Composition
Composition: Liposomal Reduced Glutathione 400mg Weight : 14g
---
Excipients
No.
---
Ingredients
Ingredients: Liposomal Reduced Glutathione, Capsule: Pullulan