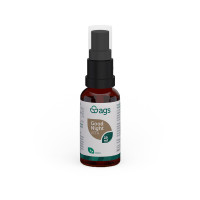 ---
Dietary supplement based on melatonin combined with melissa and passionflower. Help reduce sleep onset time •Help reduce fatigue • Help to ease the effects of jet lag
---
Melatonin combined with melissa and passionflower contribute to a good sleep.
---
Recommended dosage
1 spray per day, under the tongue, in the evening before going to bed in the dark.
---
Contraindications
Not recommended for children under 12.
---
Guaranteed without
Without unnecessary and/or harmful excipients
---
Precautions for use
Dietary supplements do not replace a varied and balanced diet or a healthy lifestyle. Keep out of reach of children. Do not exceed the recommended daily dose.
---
Conservation
Keep dry.
---
Composition
Recipe for 1 Spray Melatonin 0.199 mg Passionflower 5 mg Don't have 200 µg of flavonoids that is 4% of total. 5 mg of Melissa Don't have 2.5% Rosemary Acid 125 µg.
---
Excipients
Free from any unnecessary and/or harmful excipient.
---
Ingredients
Water, vegetable glycerin (humectant), passionflower (Passiflora incarnata L.), lemon balm (Melissa officinalis L.), ethanol (preservative), melatonin, ascorbic acid (antioxidant), potassium sorbate (preservative agent).