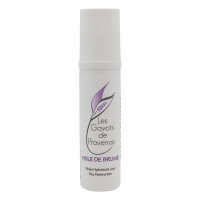 (Hydrating base) Voile de brume - Daytime Moisturizer
---
Fifty milliliters. Its velvety texture provides a delicious feeling of comfort.
---
Natural hyaluronic acid, aloe vera and olive unsaponifiables put their hydrating and plumping benefits at the service of this fluid. Apply it in the morning, it keeps the skin's hydration level and makes an excellent makeup base.
---
Recommended dosage
To be used daily as a day cream, on a perfectly cleansed skin. The high concentration of active ingredients requires only a small amount of product to be applied. We advise you The micellar solution for your skin cleaning -The Perle d'Eau cream as nightly care to optimize results.
---
Contraindications
---
Guaranteed without
Guaranteed without PEG - Paraben-free - Phenoxyethanol-free
---
Precautions for use
---
Conservation
Keep away from light, store in a dry place at a temperature between 15 and 25 °C. Maximum 6 months after opening.
---
Composition
The pursuit of quality in the products that make up our 100% natural ranges, the predominantly organic ingredients, the ongoing collaboration with professionals, the meticulous selection of our suppliers, the professionalism of our own R&D laboratory in France for 35 years (one of the pioneers in aromatherapy and herbal medicine), the development of highly concentrated formulas for optimal results, and the strict rigor of our approach have enabled us to earn the trust and loyalty of thousands of users.
---
Excipients
Without
---
Ingredients
For "Veil of Mist": Water, sesame oil, avocado oil, glycerin, jojoba oil, squalane, sweet almond oil, beeswax, natural hyaluronic acid, aloe vera, olive unsaponifiables, etc. This fluid also contains a UV screen but is not a sun product.