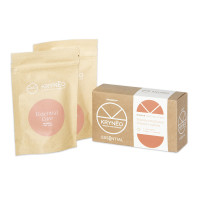 Krynéo Essential Women(3 months)
---
Shiny, healthy hair thanks to a treatment that provides all the elements necessary for a healthy hair and scalp. This formula gives your hair and scalp all of the building blocks they need. These targeted elements are not found at all, or at least not in sufficient quantity, in your diet. A real cocktail of vitamins, minerals and amino acids with dosed targeting for women.
---
Contribution of the constituent bricks of the hair: Highly active keratin (building block of hair). Set of group B vitamins (activator of cellular reactions). Vitamin A, D, E (for the good health of the skin, "support" of the hair). Vitamin C (antioxidant, promotes collagen synthesis). Selenium (antioxidant, prevents hair loss induced by its deficiency and promotes good thyroid function). Zinc (cell growth factor). Silicon (increases the diameter of the hair).
---
Recommended dosage
2 capsules / day for breakfast
---
Contraindications
Breastfeeding women and hormone-dependent cancers
---
Guaranteed without
excipient and Halal certified (certificate in the FAQ on the site www.kryneo.com)
---
Precautions for use
No use of the Intense product for children under 18
---
Conservation
Dry place and according to the validity date, DLU, indicated under the jars.
---
Composition
Ingredients Quantity for 2 capsules Keratin extract (Cynatine ® HNS) 500.00 mg Zinc bisglycinate 75.00 mg Of which element zinc 15.00 mg Selenium yeast 52.50 mg Of which selenium 0.105 mg Bamboo extract 14.30 mg Of which silica 10.00 mg Thiamine hydrochloride (B1) 2.00 mg Of which Thiamine base 1.80 mg Riboflavin (B2) 2.40 mg Nicotinamide (B3) 48.00 mg Calcium D-Pantothenate (B5) 19.80 mg Of which panthotenic acid 18.00 mg Pyridoxine hydrochloride (B6) 6.00 mg Of which pyridoxine base 4.90 mg D-Biotin (B8) 450.00 μg Quatrefolic ® folic acid (B9) 400.00 μg Methylcobalamin (B12) 5.00 μg Retinol (Vit A) 400.00 μg Ascorbic acid (Vit C) 90.00 mg Cholecalciferol (D3) 10.00 μg Vitapherole® (Vit E) 16.00 mg Of which d-α-tocopherol 12.00 mg
---
Excipients
Without excipient
---
Ingredients
Ingredients Quantity for 2 capsules Keratin extract (Cynatine ® HNS) 500.00 mg Zinc bisglycinate 75.00 mg Of which element zinc 15.00 mg Selenium yeast 52.50 mg Of which selenium 0.105 mg Bamboo extract 14.30 mg Of which silica 10.00 mg Thiamine hydrochloride (B1) 2.00 mg Of which Thiamine base 1.80 mg Riboflavin (B2) 2.40 mg Nicotinamide (B3) 48.00 mg Calcium D-Pantothenate (B5) 19.80 mg Of which panthotenic acid 18.00 mg Pyridoxine hydrochloride (B6) 6.00 mg Of which pyridoxine base 4.90 mg D-Biotin (B8) 450.00 μg Quatrefolic ® folic acid (B9) 400.00 μg Methylcobalamin (B12) 5.00 μg Retinol (Vit A) 400.00 μg Ascorbic acid (Vit C) 90.00 mg Cholecalciferol (D3) 10.00 μg Vitapherole® (Vit E) 16.00 mg Of which d-α-tocopherol 12.00 mg