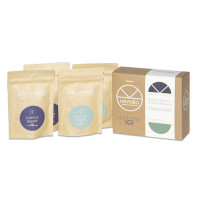 Krynéo Intens KR Men(3 months)
---
Stronger hair, denser and less thinning hair thanks to a formula specifically developed to treat hair loss in men. Our intense cure acts in two phases: Day care: a complete supply of vitamins, minerals and amino acids essential for the growth of your hair and the health of your scalp. Night care: a targeted action on the key factors of hair loss in men thanks to highly active natural ingredients with proven effects.
---
DAY CARE: contribution of the "building blocks" of the hair Highly active keratin (building block of hair). Set of group B vitamins (activation of cellular reactions). Vitamin A, D, E (for the good health of the skin, the "support" of the hair). Vitamin C (antioxidant, promotes collagen synthesis) Selenium (antioxidant, prevents hair loss induced by its deficiency and promotes good thyroid function). Zinc (cell growth factor). Silicon (increases the diameter of the hair). NIGHT CARE: action on the (in) direct causes of hair loss Saffron: reduction of stress, anxiety and depression, factors of hair loss. Astaxanthin: powerful antioxidant, it against the harmful effects of oxidative stress. Grape polyphenols (OPC): powerful antioxidants, activate the first phase of hair growth, improve microcirculation which facilitates the delivery of nutrients to the cells of the scalp ... Saw palmetto and African plum: inhibitors of 5-α-reductase, which decreases the synthesis of DHT (dihydrotestosterone, a hormone whose excess is linked to hair loss). Stinging nettle and terrestrial tribule: normalize testosterone levels and prevent side effects that may be seen with other treatments. Terrestrial tribule and fenugreek: maintaining a balanced hormonal level.
---
Recommended dosage
DAYCARE DOSAGE: 2 capsules / day for breakfast NIGHTCARE DOSAGE: 2 capsules / day in the evening
---
Contraindications
Hormone-dependent cancers
---
Guaranteed without
Excipient and Halal certified (certificate in the FAQs on the site www.kryneo.com)
---
Precautions for use
No use of the Intense product for children under 18
---
Conservation
Dry place and according to the validity date, DLU, indicated under the jars.
---
Composition
Day care Ingredients Quantity for 2 capsules Keratin extract (Cynatine ® HNS) 500.00 mg Zinc bisglycinate 75.00 mg Of which element zinc 15.00 mg Selenium yeast 52.50 mg Of which selenium 0.105 mg Bamboo extract 14.30 mg Of which silica 10.00 mg Thiamine hydrochloride (B1) 1.85 mg Of which Thiamine base 1.65 mg Riboflavin (B2) 2.40 mg Nicotinamide (B3) 36.00 mg Calcium D-Pantothenate (B5) 19.80 mg Of which panthotenic acid 18.00 mg Pyridoxine hydrochloride (B6) 5.00 mg Of which pyridoxine base 4.00 mg D-Biotin (B8) 450.00 μg Quatrefolic ® folic acid (B9) 300.00 μg Methylcobalamin (B12) 3.75 μg Retinol (Vit A) 800.00 μg Ascorbic acid (Vit C) 80.00 mg Cholecalciferol (D3) 10.00 μg Vitapherole® (Vit E) 16.00 mg Of which d-α-tocopherol 12.00 mg Nightcare Ingredients Quantity for 2 capsules Urtica dioïca extract 210 mg Saw palmetto extract 320 mg Grape seed dry extract (Vitis vinifera): 300 mg Of which 95% polyphenols 285 mg Of which OPC * total dimerics 120 mg Of which monomers (catechins, epicathechins) 90 mg Of which procyanidin B2 21 mg Extract of Trigonella foenum-graecum 200 mg Tribulus terrestris extract 37 mg Astaxanthin 6 mg Pygeum Africanum extract 100 mg Saffron extract (SAFR'INSIDE TM) 30.00 mg Of which safromitivins 12% 3.60 mg Of which crocins 3% 0.9 mg Of which safranal 2% 0.6 mg
---
Excipients
Without excipient
---
Ingredients
Ingredients Quantity for 2 capsules Keratin extract (Cynatine ® HNS) 500.00 mg Zinc bisglycinate 75.00 mg Of which element zinc 15.00 mg Selenium yeast 52.50 mg Of which selenium 0.105 mg Bamboo extract 14.30 mg Of which silica 10.00 mg Thiamine hydrochloride (B1) 1.85 mg Of which Thiamine base 1.65 mg Riboflavin (B2) 2.40 mg Nicotinamide (B3) 36.00 mg Calcium D-Pantothenate (B5) 19.80 mg Of which panthotenic acid 18.00 mg Pyridoxine hydrochloride (B6) 5.00 mg Of which pyridoxine base 4.00 mg D-Biotin (B8) 450.00 μg Quatrefolic ® folic acid (B9) 300.00 μg Methylcobalamin (B12) 3.75 μg Retinol (Vit A) 800.00 μg Ascorbic acid (Vit C) 80.00 mg Cholecalciferol (D3) 10.00 μg Vitapherole® (Vit E) 16.00 mg Of which d-α-tocopherol 12.00 mg Nightcare Ingredients Quantity for 2 capsules Urtica dioïca extract 210 mg Saw palmetto extract 320 mg Grape seed dry extract (Vitis vinifera): 300 mg Of which 95% polyphenols 285 mg Of which OPC * total dimerics 120 mg Of which monomers (catechins, epicathechins) 90 mg Of which procyanidin B2 21 mg Extract of Trigonella foenum-graecum 200 mg Tribulus terrestris extract 37 mg Astaxanthin 6 mg Pygeum Africanum extract 100 mg Saffron extract (SAFR'INSIDE TM) 30.00 mg Of which safromitivins 12% 3.60 mg Of which crocins 3% 0.9 mg Of which safranal 2% 0.6 mg