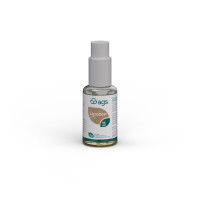 ---
Combination of GABA (gamma-aminobutyric acid) and L-theanine in liposomal form for optimal stability and absorption. Ideal for relieving stress, making it easier to fall asleep and improving the feeling of well-being!
---
What is GABA? Gamma-aminobutyric acid, also called GABA, is a natural neurotransmitter. Its main function is to reduce the excitability of cells in the nervous system. In other words, GABA is a naturally relaxing substance! What are the benefits of GABA? Studies have highlighted its many benefits: - Natural calming effect: -> Increases the alpha brain waves characteristic of calming -> Decreases beta waves, which appear in times of anxiety - Improves the quality and duration of sleep - Helps balance brain activity to improve feelings of well-being - Helps fight against depression - Significantly improves cognitive abilities - Reduces spasms and muscle tone The GABA / L-theanine synergy L-theanine is a molecule derived from an amino acid, glutamine. It promotes the production of GABA and helps to increase its concentration. The presence of L-theanine in our formula complements the actions of GABA by its relaxing effect and its ability to reduce mental and physical stress. Why choose the liposomal form? Although powerful, these actives are particularly sensitive to gastric acidity. Therefore, the AGS laboratory offers LipoZen Vita in a form ensuring a high assimilation efficiency. This is because it significantly increases its bioavailability and increases the plasma and cellular concentrations of GABA, thus prolonging its duration of action. The liposome, made up of phospholipids, completely covers the active ingredient, protecting it from stomach acidity and facilitating its transport across the intestinal barrier. In addition, the liposome only opens if it encounters a surface of the same nature, which implies that it will release GABA only on contact with the cell since the latter is surrounded by a cell membrane composed of phospholipids. . In other words, the action of the liposome is targeted! The plus at AGS: Unlike some liposomes available on the market, those we use come from a manufacturing process that ensures superior quality and great stability against acid and enzyme attacks from the stomach. They therefore arrive in the intestine intact.
---
Recommended dosage
1 dose, equivalent to 2 ml per day, or as advised by your healthcare professional.
---
Contraindications
Not recommended for pregnant or breastfeeding women.
---
Guaranteed without
• Gluten free • Lactose free • Without Conservative agent • Without colouring
---
Precautions for use
Do not use if the cap protection is broken. Do not exceed the recommended daily dose. Keep out of the reach of children. This food supplement does not replace a varied and balanced diet or a healthy lifestyle.
---
Conservation
Store preferably away from light and moisture. After opening, keep cool.
---
Composition
Composition for 2 ml; GABA (gamma y-aminobutyric acid) 150 mg L-theanine 100 mg
---
Excipients
No
---
Ingredients
Glycerol, purified water, G.A.B.A (y-aminobutyric acid), lecithin (extracted from Helianthus Annuus), L-theanine (Camellia Sinensis), flavor of natural origin, ascorbic acid (E300).