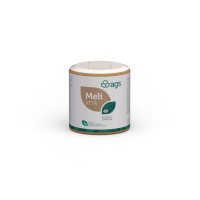 ---
Natural extract of patented lemon balm, associated with Nicotinamide.
---
Food supplement based on natural lemon balm extract (Cyracos® process) and Nicotinamide, offering synergy and increased bioavailability. Méli Vita, participates in the proper functioning of the nervous system, antispasmodics (calms or neutralizes the involuntary contractions of the muscles)
---
Recommended dosage
2 capsules per day with a meal or as advised by your healthcare professional.
---
Contraindications
Do not consume in the event of alcoholism or alcohol consumption (more than two drinks per day), in the event of liver disease or dysfunction, gastric ulcer or gout. Do not administer to children under 7 years old. Do not use if you are pregnant or breastfeeding.
---
Guaranteed without
• Gluten • Yeast • Lactose • Soy • Sugar • Preservatives • Synthetic flavors, fragrances and colorings
---
Precautions for use
Do not exceed the recommended daily dose. Keep out of the reach of children. This food supplement cannot replace a varied, balanced diet and a healthy lifestyle.
---
Conservation
Store in a dark, dry place at a temperature between 15 and 25 ° C.
---
Composition
Composition for 1 capsule:% AR Lemon balm Cyracos® 300 mg Lives. B3 - Nicotinamide 150 mg 938%
---
Excipients
No
---
Ingredients
Melissa officinalis extract, nicotinamide, capsule: bovine gelatin.