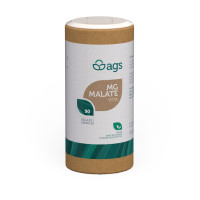 ---
Dimagnesium malate.
---
Dimagnesium malate, a patented form of magnesium, is made up of one molecule of malic acid to which 2 molecules of magnesium are attached and is an excellent source of both magnesium and malic acid, with high bioavailability. In addition, since malate does not react with stomach acids, it does not interfere with the functioning of the digestive system as other forms of magnesium can sometimes do.
---
Recommended dosage
Adults: 4 capsules / day with a meal. Children over 4 years old: 2 capsules / day with a meal.
---
Contraindications
No
---
Guaranteed without
• Gluten • Yeast • Lactose • Soy • Sugar • Preservatives • Synthetic flavors, fragrances and colorings
---
Precautions for use
Do not exceed the recommended daily dose. Keep out of the reach of children. This food supplement does not replace a varied and balanced diet or a healthy lifestyle.
---
Conservation
Store in a dark, dry place at a temperature between 15 and 25 ° C.
---
Composition
Composition for 4 capsules: Magnesium malate 2000 mg of which elemental magnesium 15% 300 mg 80% RDA
---
Excipients
No harmful excipients.
---
Ingredients
Magnesium malate, capsule: pullulan, organic acacia gum