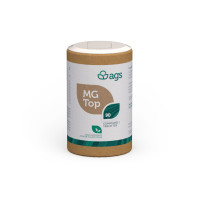 ---
Association of bisglycinate and magnesium glycerophosphate with taurine, vitamin D3 and group B vitamins for better bioavailability.
---
Mg Top includes magnesium in its most assimilable forms: bisglycinate in combination with glycerophosphate, vitamin D3 to improve the uptake of intestinal magnesium and increase its serum form and group B vitamins, of which the last generation lives. B9 (QuatreFolic®), available in their best forms to improve the Krebs cycle and taurine for synergistic action.
---
Recommended dosage
1 tablet / day during the meal or as recommended. Preferably, for an optimal complementation, with a meal containing a little lipids for the glycerophosphate. In the evening, it will participate more in the functioning of recovery by helping the hepatic detoxification phases.
---
Contraindications
No
---
Guaranteed without
• Gluten • Yeast • Lactose • Soy • Sugar • Preservatives • Synthetic flavors, fragrances and colorings
---
Precautions for use
Do not exceed the recommended daily dose. Keep out of the reach of children. This food supplement does not replace a varied and balanced diet or a healthy lifestyle.
---
Conservation
Store in a dark, dry place at a temperature between 15 and 25 ° C.
---
Composition
Composition per tablet:% AR Magnesium glycerophosphate 741.88 mg Magnesium bisglycinate 300 mg Total element magnesium 146.8 mg 39% Taurine 200 mg Lives. B1 - Thiamine hydrochloride 3.2 mg 290% Lives. B2 - Riboflavin 2 mg 143% Lives. B3 - Nicotinamide 17 mg 106% Lives. B5 - Calcium D-pentothenate 9 mg 150% Lives. B6 - Pyridoxine hydrochloride 3.4 mg 243% Lives. B8 - D-Biotin 150 μg 300% Lives. B9 - Folates - 5-MTHF-glucosamine, Quatrefolic® 100 μg 50% Lives. B12 - Methylcobalamin 2 μg 80% Lives. D3 - Cholecalciferol 7.5 μg 150%
---
Excipients
Stearic acid
---
Ingredients
Magnesium glycerophosphate, magnesium bisglycinate, taurine, acacia, hydroxypropylmethylcellulose, rice starch, rice flour, rapeseed powder, nicotinamide, stearic acid, calcium D-pentotenate, pyridoxine hydrochloride, thiamine hydrochloride, ribecalciferol, d-biotin, folates (5-MTHF-glucosamine, Quatrefolic ®), methylcobalamin.