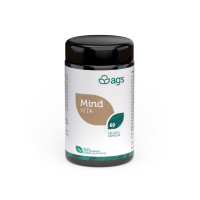 ---
Positive and de-stressing cerebral action. Based on Rhodiola, Griffonia and Saffron.
---
Mind Vita is a phytotherapeutic food supplement combining: - The toning and adaptogenic effects of Rhodiola - The anti-stress virtues of Griffonia - The antidepressant action of saffron But what are these plants containing such active ingredients? Rhodiola rosea is a plant of the Crassulaceae family growing in cold regions (up to 3000 meters above sea level). Its roots, nicknamed "golden roots" have been used for millennia for their revitalizing and invigorating actions. It is currently recognized as one of the most potent adaptogenic products! - Strengthens muscle resistance and reduces physical fatigue - Prepares the body to face change, which has the effect of better adaptation to external stresses such as the change of season, occasional emotional stress or disruption of the sleep cycle Griffonia simplicifolia is a leguminous climbing plant native to West and Central Africa. It is mainly sought after for its beneficial effects on mood and its tranquilizing activity. The whole plant can be used for phytotherapeutic purposes, but it is the seeds that contain the greatest concentration of 5-HTP, the active substance of Griffonia and the precursor of serotonin. - Improves the production of serotonin - Acts on chronic pathologies such as emotional stress, insomnia or depression (The latter have been the subject of a multitude of clinical studies confirming the potential of 5-HTP (precursor of serotonin) as replacing conventional pharmaceuticals.) Saffron is a spice derived from the dried stigmas of saffron flowers (Crocus sativus) and is the most expensive spice in the world to date. The spice stands out for its multifunctionality (seasoning, perfume, tincture and medicine) and for the extent of its therapeutic properties! Its use dates back to antiquity, 3000 years BC. - Toning, antidepressant, emmenagogues, cholesterol-lowering, and digestive stimulant effects Interest of L-Theanine and lavender: L-theanine is an amino acid found in tea that is believed to be a non-sedating relaxant. - Relaxing effect - Reduction of mental and physical stress Lavender essential oil is one of the most used oils as its benefits are numerous. L - Decreased anxiety - Improved quality of sleep - Reduction of insomnia Only composed of natural substances and obtained by eco-responsible green processes, the Mind Vita food supplement from the ESE Group laboratory has a complete composition whose benefits translate into a reduction in fatigue and stress, an increase in performance brain, improved sleep and therefore the quality of life and the feeling of well-being!
---
Recommended dosage
1 to 3 capsules per day or as recommended.
---
Contraindications
Do not use if you are pregnant or breastfeeding. Consult your doctor or pharmacist in case of concomitant use of treatment for depression. Avoid prolonged use. Not recommended for children.
---
Guaranteed without
• Gluten • Lactose • Soy • Sugar • Yeast • Preservatives • Synthetic flavors, fragrances and colorings
---
Precautions for use
If you are taking medication at the same time, inform your doctor. Do not exceed the recommended daily dose. Keep out of the reach of children. This food supplement does not replace a varied and balanced diet or a healthy lifestyle.
---
Conservation
Store in a dark, dry place at a temperature between 15 and 25 ° C.
---
Composition
Composition for 3 capsules: Rhodiola 300 mg including 3% rosavin 9 mg including 1% salidroside 3 mg Griffonia 300 mg including 30% of 5-HTP 90 mg L-Theanine 250 mg Saffron 45 mg including 12% safromotivines 5.4 mg including 3% crocin 1.35 mg including 2% safranal 900 μg Organic Lavender (essential oil) 15 mg
---
Excipients
No
---
Ingredients
Capsule: pullulan, dry extract of Rhodiola rosea, dry extract of Griffonia simplicifolia, L-theanine, dry extract of Crocus sativus, silica, organic essential oil of Lavandula officinalis.