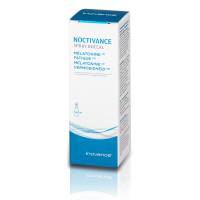 ---
Melatonin and lemon balm in mouth spray.
---
Food supplement based on melatonin, vitamins B1, B6 and lemon balm in mouth spray.
---
Recommended dosage
1 spray in the evening 30 minutes before bedtime or as recommended by a healthcare professional.
---
Contraindications
No
---
Guaranteed without
• Gluten free • Lactose free
---
Precautions for use
Complementary foods are not a substitute for a varied and balanced diet, or a healthy lifestyle. Keep out of the reach of children. Do not exceed the recommended daily dose.
---
Conservation
Store in a dark, dry place at a temperature between 15 and 25 ° C.
---
Composition
Spray composition:% AR Melatonin 298 µg Vit B1 170 µg 15% Vit B6 210 µg 15% Lemon balm 3 mg
---
Excipients
Texturing agent: xanthan gum. Preservatives: potassium sorbate, potassium benzoate. Sweetener: rebaudioside A.
---
Ingredients
Water, fluid extract of lemon balm leaf (Melissa officinalis), natural lemon flavor, citric acid, texturizing agent: xanthan gum, melatonin, pyridoxine hydrochloride (vitamin B6), thiamine hydrochloride (vitamin B1), preservatives: potassium sorbate, benzoate potassium, sweetener: rebaudioside A.