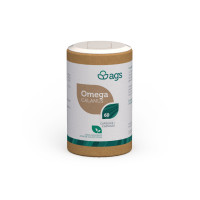 Omega Calanus (Calanus O3)
---
Natural extract of Calanus finmarchicus lipids, presenting Omega 3 fatty acids in the form of cerides (fatty acid esters).
---
Omega Calanus is a natural lipid extract from Calanus finmarchicus, a herbivorous copepod commonly found in the North Atlantic Ocean. It is an innovative source of omega-3 presented in the form of cerides, which differentiates it from fish oils (triglycerides) and krill (phospholipids). This is because cerides are prone to slower digestion, which allows lipids to reach an area further away from the intestine, which is the end of the ileum and the beginning of the large intestine, where it activates GRP120 receptors. These receptors are widely used in the large intestine and are known to be responsible for producing hormones that control the body's fat and sugar metabolism, and moderate anti-inflammatory agents and the effects of insulin. It is this property that sets Omega Calanus apart from other sources of Omega 3. In this sense, Svelt Omega will: - Improve insulin management - Prevent intra-abdominal obesity - Prevent liver disease unrelated to alcohol - Increase endurance and oxygen absorption - Reduce inflammation The slower digestion of cerides also gives omega-3 from Omega Calanus better assimilation into comparison to its counterparts. The extract can be stored for 3 years without any problem. This great stability is due, on the one hand, to the presence natural astaxanthin, a powerful antioxidant (which gives it its red color) and, on the other hand, to the immediate processing and sealing of the material on the fishing boat. As for toxicity, Calanus finmarchicus is in first place in the food chain. Therefore, it is not affected by the phenomenon of bioaccumulation that large fish such as tuna suffer from, causing heavy metals and other pollutants to accumulate in their flesh. Omega Calanus therefore offers a product guaranteed without heavy metals, to which is added a Clean Label, the promise of a clean product, free from excipients. In addition, the product comes from reasoned and sustainable fishing confirmed by the ISO 26000 certificate (standard which defines the organization of societies to contribute to sustainable development), without forgetting that Calanus finmarchicus reproduces twice as fast as it is fished, which ensures its sustainability.
---
Recommended dosage
2 x 1 capsule per day during meals
---
Contraindications
Not recommended in case of blood diseases (hemophilia). Omega-3 fatty acids could influence the action of oral anticoagulants. In this case, administer only under supervision. Stop taking omega-3 10 days before surgery.
---
Guaranteed without
• Gluten free • Lactose free • Without Conservative agent • Without colouring
---
Precautions for use
Do not exceed the recommended daily dose. Keep out of the reach of children. This food supplement does not replace a varied and balanced diet or a healthy lifestyle.
---
Conservation
Store away from light, heat and dry.
---
Composition
Composition for 2 capsules: Calanus finmarchicus oil * 1000 mg of which cerides 850 mg of which omega-3 185 mg of which EPA min 30 mg DHA min 40 mg of which astaxanthin 600 µg * From sustainable and eco-responsible fishing, IFFO RS certified
---
Excipients
No
---
Ingredients
Calanus finmachicus oil (Seamega Pure Arctic Oil (Calanus ® Oil)), capsule: fish gelatin