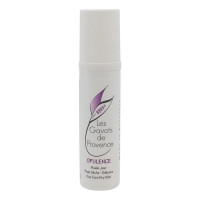 Opulence - Day Cream for Dry and Sensitive Skin
---
Fifty milliliters This fluid is suitable for dry and delicate skin. It can also be called "fluid grand air-grand froid" because it protects from climate aggression.
---
This light fluid with extracts of linden, chamomile and peach, with hazelnut and wheat germ oil, is perfectly suitable as a day care for dry and sensitive skin.
---
Recommended dosage
To be used daily as a daily cream, on a perfectly cleansed skin. The hyper-concentration of active ingredients requires very little product to be applied. We recommend to you: -The micellar solution for cleansing your skin. -The Comfort & Plenitude cream as a night care to optimize the results.
---
Contraindications
On the other hand, the absence of side effects is not guaranteed (such as skin reactions) if used with other ranges than those mentioned above (since there have been no compatibility tests, which are impossible to carry out given the number of brands on the cosmetics market).
---
Guaranteed without
Guaranteed without PEG - Paraben-free - Phenoxyethanol-free
---
Precautions for use
It is recommended to use this product in combination with products from the SPA (Société Provençale d'Aromathérapie) and/or Les Gavots de Provence ranges (tested and no contraindications observed by the laboratory); in fact, their combined use ensures better synergy.
---
Conservation
Keep away from light, dry and at a temperature between 15 and 25 °C. Up to 6 months after opening
---
Composition
The pursuit of quality in the products that make up our 100% natural ranges, the predominantly organic ingredients, the ongoing collaboration with professionals, the meticulous selection of our suppliers, the professionalism of our own R&D laboratory in France for 35 years (one of the pioneers in aromatherapy and herbal medicine), the development of highly concentrated formulas for optimal results, and the strict rigor of our approach have enabled us to earn the trust and loyalty of thousands of users.
---
Excipients
Without
---
Ingredients
For "Veil of Mist Water, organic sesame oil, avocado oil, jojoba oil, shea butter, lime tree extract, chamomile extract, peach extract, etc. This fluid also contains a UV screen but is not a sunscreen product.