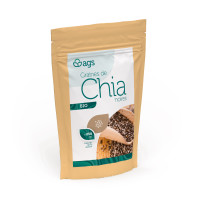 ---
The most antioxidant-rich protein seed! A true "superfood. It is about small seeds originating from Mexico, which have many virtues. Chia seeds can effectively combat cardiovascular diseases. Indeed, these small seeds help lower blood pressure, reduce cholesterol levels and thus prevent blood vessel obstruction. Rich in omega-3 fatty acids, magnesium and potassium, chia seeds are therefore beneficial for better cardiovascular health. Chia seeds are high in fiber, so they are very useful for having good digestion and fighting constipation. Very high in calcium, chia seeds strengthen teeth and bones. The proteins present in chia seeds indeed allow the skin to regenerate. Eating a diet based on chia seeds will help you feel less hungry, as they have an impact on appetite. They have satiating properties. Chia seeds are rich in tryptophan, an amino acid capable of producing serotonin and melatonin. These two hormones will help you relax, regulate your mood and sleep better. The chia seeds are also rich in antioxidants. Composed of 20% omega-3 fatty acids. Chia seeds are useful for proper brain functioning. Indeed, they help protect the brain's arteries and facilitate better communication between cells.
---
---
Recommended dosage
---
Contraindications
---
Guaranteed without
---
Precautions for use
Chia seeds can be added to your breakfast to maximize the benefits and stay energized throughout the day. Thanks to their neutral taste, they go well with both sweet and savory dishes. Recipe idea for breakfast or a snack: In a glass jar, fill half of it with chia seeds and then complete the other half with plant milk (like rice milk or almond milk, for example). Mix well and let it rest overnight. In the morning, enjoy yourself with some fresh and/or dried fruit !
---
Conservation
Shelf life of chia seeds: It is preferable to keep Chia seeds in a closed container, in a temperate and dry place. They will then keep for about a year.
---
Composition
Nutritional Values per 100 gr Energy (kcal/kJ) 449 kcal / 1879 kJ Protein 19.5 g Carbohydrates 34.6 g Fat 33.4 g Saturated fat 3.2 g 34 grams of fiber Sodium 0 grams 0.06 grams
---
Excipients
---
Ingredients
Black 100% Organic Chia Seeds.