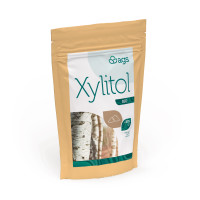 ---
Xylitol is a natural sugar derived from birch bark, which is an interesting alternative to ordinary white sugar! In the form of a rather fine and white powder, which looks like refined white sugar, it is obtained from birch sap. Xylitol is an excellent alternative to refined sugar, because not only does it have only 27 calories per 10 grams (roughly one tablespoon), but its glycaemic index is very low because it is 7. For comparison, the glycemic index of refined white sugar is between 65 and 70. If we therefore compare the glycemic indexes of the different types of sugar that exist, xylitol is more than ever the right choice for people with diabetes, whose blood sugar must be monitored and controlled.
---
---
Recommended dosage
Dosage 1: 1 compared to normal table sugar.
---
Contraindications
The product is not recommended for children under 3 years old, and adults should transition to this sugar gradually. Excess consumption of xylitol can have a laxative effect.
---
Guaranteed without
---
Precautions for use
Instructions for using powdered xylitol: Powdered xylitol can be used for all foods, such as pastries and drinks.
---
Conservation
It is better to keep the xylitol in a closed container, in a temperate and dry place.
---
Composition
Nutritional values per 100 gr Energy (kcal/kJ) 240 kcal / 1003 kJ Proteins 0 g Carbohydrates 99.5 g (Polyols 99.5 g) 0g Fat Zero grams of saturated fat 0 g of Fiber Sodium 0 grams Zero salt
---
Excipients
---
Ingredients
100% Organic Xylitol