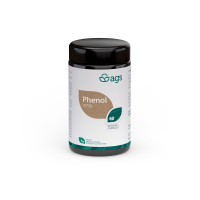 ---
PhénolVita, a synergy of 11 natural plant and plant extracts including 40 different polyphenols!
---
What are polyphenols? Polyphenols are micronutrients found in plant foods. They give plants characteristic colors, flavors and odors and also help fight diseases and infections. They can be found in many different types of food, as well as in supplements. The polyphenol content varies considerably depending on the plant. Polyphenols are fat soluble. This means that the best way to absorb most of the nutrients from polyphenols is to take them with foods that contain healthy fats. To better understand the health effects of polyphenols, it is helpful to consider the four main types of polyphenols. Types of polyphenols All polyphenols consist of a cyclic structure and are identified by the number of rings and molecules. This classification system groups polyphenols into 4 main categories. Flavonoids These polyphenols have antioxidant and anti-inflammatory properties. Moreover, they are divided into six categories, which include anthocyanins, isoflavones, flavones, flavanones, flavanols, and catechins. Phenolic acids There are different types of phenolic acids. The peels, seeds and leaves of fruit and vegetable plants contain the highest concentrations of phenolic acids. Phenolic acids make up almost a third of all polyphenolic compounds in the human diet. Phenolic acids are particularly common in citrus fruits. Stilbenes Stilbenes are less common polyphenols found in small amounts in plant foods. Most of these compounds have antifungal properties and help fight infections. Lignans Lignans are polyphenols found in small amounts in plant products. Lignans are estrogens of plant origin called phytoestrogens. They block the effects of estrogen, making them useful in the treatment of hormonal cancer, including breast and ovarian cancer. PhenolVita is a tailor-made selection of a set of very powerful polyphenols selected on the basis of the most recent and robust scientific data. PhenolVita is: An unrivaled product on the market. It is undoubtedly the best polyphenol product in terms of its richness, the diversity of polyphenols it contains, their source as well as their quality. 11 natural plant and vegetable extracts of very high biological value titrated to the highest levels of polyphenols More than 40 different polyphenols with complementary, synergistic and very powerful metabolic functions. A product that respects the environment, fair development rules and international standards for the traceability of raw materials. A unique composition for optimized effects! Health benefits Polyphenols are extremely potent antioxidants that can help prevent serious disease and protect human health. Recent studies show that polyphenols can help prevent heart and brain disease, as well as treat digestive problems, and even some types of cancer. - Helps regulate type 2 diabetes As unhealthy diets become more common, the incidence of type 2 diabetes has increased sharply. The long term effects of diabetes include visual impairment, ulcers, diabetic neuropathy, diabetic foot, etc. Polyphenols have been shown to be able to prevent and regulate the symptoms of diabetes. - Help in cancer treatment Certain polyphenols can help treat certain types of cancer due to their high anti-tumor activity. Studies show that polyphenols help protect DNA from the oxidative process caused by free radicals. The presence of free radicals has been linked to the development of certain types of cancer, including lung and breast cancer. Research has shown that flavonoids help protect cells against free radicals. Data shows that polyphenols can prevent cancer caused by ionizing radiation and help stop the growth of existing cancerous tumors. - Prevention of heart disease There are many risk factors that can lead to heart disease. Smoking, a diet high in low-quality fats, sugar, pesticides, and GMOs can increase your risk for heart disease. The antioxidant properties of polyphenols help counter these risks and protect heart health. - Brain protection These phenolic compounds can help protect central nervous system processes and prevent neurodegenerative diseases such as Parkinson's disease and Alzheimer's disease. Antioxidant compounds help prevent free radicals from entering the brain. Certain polyphenols have very powerful protective effects for the brain. - Optimization of the digestive process Certain polyphenols help improve digestion and prevent diseases such as stomach ulcers and irritable bowel syndrome. They can optimize the production of stomach acid and enzymes, which aid in the digestion of food. Do not wait any longer to discover PhénolVita, a tailor-made selection of a set of very powerful polyphenols selected on the basis of the most recent and solid scientific data!
---
Recommended dosage
2 capsules per day during the meal (morning or noon) or as advised by your healthcare professional.
---
Contraindications
• Not recommended for pregnant and breastfeeding women without prior medical advice
---
Guaranteed without
• Gluten free • Lactose free • Without Conservative agent • Without colouring
---
Precautions for use
Do not exceed the recommended daily dose Keep out of reach of children This food supplement does not replace a varied and balanced diet, nor a healthy lifestyle.
---
Conservation
Store in a dark, dry place at a temperature between 15 and 25 ° C.
---
Composition
Composition for 2 capsules: Pine bark extract 50mg including 25% pycnogenol Japanese sophoree extract 100mg of which 98% quercetin Grapeseed extract 100mg including 40% of OPC and 30% of monomers Cocoa extract 100mg including 10% polyphenols Pomegranate extract 100mg including 90% ellagic acid Rosemary extract 200mg including 6% rosmarinic acid Blend of currant / blackcurrant extract (MitoActive ™) 200mg including 10% polyphenols Orange extract 100mg including 45% polyphenols Olive leaf extract 100mg including 20% hydroxytyrosol Bilberry extract 100mg including 10% polyphenols
---
Excipients
No
---
Ingredients
Capsule: pullulan, rosemary extract (Rosmarinus officinalis), MitoActiv ™ (blackcurrant extract (Ribes nigrum) + currant extract (Ribes rubrum)), Japanese sophora extract (Sophora japonica), grape seed extract (Vitis vinifera L .), cocoa extract (Theobroma cacao), pomegranate extract (Punica granatum), orange extract (Citrus sinensis), olive leaf extract (Olea europaea), bilberry extract (Vaccinium myrtillus), extract of Scots pine bark (Pinus sylvestris).