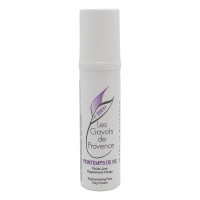 Printemps de Vie - Anti-Wrinkle Day Cream
---
Fifty milliliters. This fluid is for mature skin or for the first signs of ageing.
---
Spring of Life is a regenerating day cream for mature skin. This special and rich fluid is also suitable for tired and/or stressed skins. The special blend of borage oil, melilot, pine bark and apricot kernels makes Printemps de Vie the perfect daily care fluid. He nourishes, relaxes, hydrates and regenerates the skin and gives a healthy and radiant look. It stimulates cellular renewal, provides optimal protection against free radicals (due to the presence of jojoba oil and avocado oil) and slows down the formation of wrinkles and fine lines.
---
Recommended dosage
Use daily as a day cream, on a perfectly cleansed skin. The hyperconcentration of active ingredients requires very little product to be applied. We advise you: -Micellar solution for the cleansing of your skin. -The "Anti-aging Serum" as a night care to optimize results.
---
Contraindications
It is recommended to use this product in combination with products from the SPA (Société Provençale d'Aromathérapie) and/or Les Gavots de Provence ranges (tested and no contraindications observed by the laboratory); in fact, their combined use ensures better synergy.
---
Guaranteed without
Guaranteed without PEG – without Paraben – without Phenoxyethanol
---
Precautions for use
On the other hand, the absence of side effects is not guaranteed (such as skin reactions) if used with other ranges than those mentioned above (since there have been no compatibility tests, which are impossible to carry out given the number of brands on the cosmetics market).
---
Conservation
Keep away from light, in a dry place and at a temperature between 15 and 25 °C. Up to 6 months after opening.
---
Composition
The pursuit of quality in the products that make up our 100% natural ranges, the predominantly organic ingredients, the ongoing collaboration with professionals, the meticulous selection of our suppliers, the professionalism of our own R&D laboratory in France for 35 years (one of the pioneers in aromatherapy and herbal medicine), the development of highly concentrated formulas for optimal results, and the strict rigor of our approach have enabled us to earn the trust and loyalty of thousands of users.
---
Excipients
Without
---
Ingredients
For "Spring of Life Water, organic sesame oil, jojoba oil, sweet almond oil, shea butter, beeswax, cucumber extract, melilot, apricot, mimosa tenuiflora bark extract, beta-carotene, etc. This fluid also contains a UV screen but is not a sun protection product.