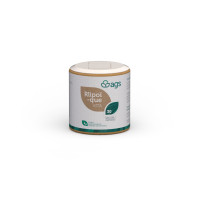 ---
RLipoic Vita is only composed of the R isomer, the most bioavailable form of alpha-lipoic acid for optimal and 100% natural efficiency!
---
Alpha Lipoic Acid is an organosulfur compound, synthesized in the human body, with powerful antioxidant properties. It promotes weight loss and neutralization of free radicals. In addition, alpha-lipoic acid has the peculiarity of being able to regenerate endogenous antioxidants, that is, it improves the effects of vitamins E and C, which helps to improve immunity and condition. skin. According to the spectrum of biochemical effects on the body, it is similar to B vitamins. Alpha lipoic acid is involved in fat metabolism and regulates cholesterol metabolism. It enhances the action of L-carnitine, a pseudo-vitamin promoting weight loss by reducing hunger, increasing energy production, improving glucose absorption and tissue sensitivity to insulin. In addition, it plays a role in releasing energy from glucose, which allows the body to spend energy substrates more efficiently. Alpha lipoic acid is rapidly absorbed by brain and heart cells. The advantages of AGS: focus on the R shape! The natural form of alpha-lipoic acid has the R-isomer (R-alpha-lipoic acid), while the synthetic form has a mixture of two isomers: R and S. The two isomers have different potentials. The R form has great potential in the utilization of glucose and shows a better affinity with glutathione and antioxidants. It is scientifically known that the R form is the most biologically active and therefore the one which gives the best effects clinically. In fact, this makes it possible to achieve plasma levels of R-alpha-lipoic acid 10 to 30 times higher than those obtained with the R and S forms. This is why, RLipoic Vita is only composed of the most bioavailable natural form of alpha-lipoic acid, the R isomer, for optimal and 100% natural effectiveness! What are the benefits of RLipoic Vita? Oxidative stress and glycation: An increase in glucose in people with diabetes leads to an increase in glycation end products (AGEs). This process, defined as auto-oxidative glycation, is believed to be the main reason for the increased production of free radicals in diabetic patients. Additionally, auto-oxidative glycation may be responsible for reducing the availability and activity of antioxidant enzymes. The main effect of RLipoic Vita is the neutralization of reactive oxidized substances responsible for oxidative stress. Alpha Lipoic Acid is a universal antioxidant because it is both water soluble and fat soluble. This property gives it an advantage in the protection of different forms of oxidative stress, and in particular intracellular protection against auto-oxidative glycation. Recycling of antioxidants: An additional benefit of RLipoic Vita is the synergistic interaction with other antioxidants, such as vitamins C and E, CoQ10 and Glutathione. In addition, it is involved in the recycling of these antioxidants. In particular, Glutathione which is one of the main non-enzymatic defense mechanisms which reacts directly by neutralizing free radicals and is also part of the enzymatic system of glutathione peroxidase. RLipoic Vita regenerates glutathione and therefore increases the half-life of glutathione. Skin aging Alpha lipoic acid is used to inhibit skin aging. Indeed, it contributes to the elimination of damaged collagen and has a preventive effect on the processes of protein glycation, which helps prevent premature aging and skin damage. Clinically, it exhibits skin benefits such as improving skin color, tone and texture. Cardiovascular system The oxidation of low density lipoproteins (LDL) with the formation of free radicals contributes to the deposition of cholesterol in the arterial wall associated with atherosclerosis. Since 1992, studies have been published demonstrating the synergistic effect of alpha-lipoic acid with vitamins C and E, directed against the radical oxidation of LDL. Clinical studies confirm its ability to reduce ischemia and reperfusion injury to heart muscle and brain. Diabetic neuropathy When blood vessels are damaged, nerve endings are no longer supplied with oxygen and nutrients. In addition, the nerves can be directly attacked by sugar alcohols found in large quantities in diabetics due to the fermentation of glucose which has difficulty entering the cells. Peripheral nerves are at risk while the brain and spinal cord are not affected. Several studies have shown that short-term treatment with alpha-lipoic acid may alleviate symptoms of diabetic neuropathy. The so-called NATHAN II study, for example, showed an improvement in nerve function after 4 years of treatment. A powerful antioxidant and anti-inflammatory effect promotes the neutralization of free radicals, thereby reducing the load of oxidative stress on the bloodstream and nerves. In Germany, as in several other countries, alpha lipoic acid is prescribed as a treatment for diabetic neuropathy. Discover RLipoic Vita only composed of the R isomer, the most bioavailable form of alpha-lipoic acid for optimal and 100% natural efficiency! RLipoïque Vita is excipient-free & Vegan. It is composed only of concentrated natural ingredients and is free from any unnecessary excipients that are harmful to health.
---
Recommended dosage
1 capsule per day without meals
---
Contraindications
No
---
Guaranteed without
• Gluten free • Lactose free • Without Conservative agent • Without colouring
---
Precautions for use
Food supplements are not a substitute for a varied and balanced diet or a healthy lifestyle. Keep out of the reach of children. Do not exceed the recommended daily dose.
---
Conservation
Store in a dark, dry place at a temperature between 15 and 25 ° C.
---
Composition
Composition for 1 capsule: R-alpha lipoic acid 300mg
---
Excipients
No harmful excipients.
---
Ingredients
R-alpha lipoic acid (sodium), capsule: pullulan.