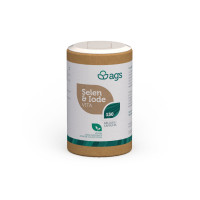 ---
Food supplement based on selenium and iodine.
---
Food supplement based on selenium and iodine which participates in many physiological functions.
---
Recommended dosage
1 capsule per day without food or as advised by your healthcare professional.
---
Contraindications
Do not take Selen & Iodine with thyroid therapy without the advice of a healthcare practitioner.
---
Guaranteed without
• Gluten free • Lactose free • Without Conservative agent • Without colouring
---
Precautions for use
Do not exceed the recommended daily dose. Keep out of the reach of children. This food supplement does not replace a varied and balanced diet or a healthy lifestyle.
---
Conservation
Store in a dark, dry place at a temperature between 15 and 25 ° C.
---
Composition
Composition for 1 capsule% AR Fucus vesiculosus 130 mg of which iodine 150 µg 100% Selenium yeast (0.2%) 37.5 mg of which selenium 75 µg 136%
---
Excipients
No
---
Ingredients
Fucus vesiculosus powder, capsule: pullulan, selenium yeast, organic acacia fiber.