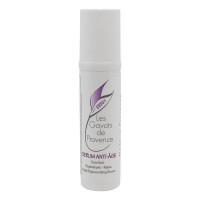 Sérum anti âge - Anti-Wrinkle Night Cream
---
50 milliliters Skin aging does not always correspond to the biological age of the individual, but it reflects cellular aging influenced not only by age but by internal and external environment.
---
The properties of the ingredients in this cream (mango extract, apricot, hammamelis, horsetail, wheat germ unsaponifiables...) are known to increase skin firmness, reduce and prevent wrinkles and fine lines, and recharge tired epidermises.
---
Recommended dosage
To be used daily as a night cream, on a perfectly cleansed skin. The high concentration of active ingredients requires very little product to be applied. We recommend: -Micellar solution for skin cleansing. -"The Spring of Life Day Cream as a daily care to optimize results
---
Contraindications
On the contrary, the absence of side effects is not guaranteed (such as skin reactions) if used with other product ranges than those mentioned above (as there have been no compatibility tests, which are impossible to carry out given the number of brands on the cosmetics market).
---
Guaranteed without
Guaranteed without PEG - without Paraben - without Phenoxyethanol
---
Precautions for use
It is recommended to use this product in combination with products from the SPA (Société Provençale d'Aromathérapie) and/or Les Gavots de Provence product ranges (tests have been carried out and no contra-indications have been observed by the laboratory). Moreover, their combined use ensures better synergy.
---
Conservation
Keep in a cool, dry place away from direct light, at a temperature between 15 and 25°C. Up to 6 months after opening.
---
Composition
Our commitment to quality in our 100% natural product ranges, with predominantly organic ingredients, permanent collaboration with professionals, meticulous selection of our suppliers, the professionalism of our own R&D laboratory in France for 35 years (one of the pioneers in aromatherapy and phytotherapy), the development of ultra-concentrated formulas that are results-oriented, and the high degree of rigor in our approach, have enabled us to earn the trust and loyalty of thousands of users.
---
Excipients
Without
---
Ingredients
For our "Anti-Ageing Serum": Water, organic sesame oil, jojoba oil, avocado oil, witch hazel extracts, mango, apricot, horsetail, wheat germ unsaponifiable, mimosa tenuiflora, etc. This fluid also contains a UV screen but is not a sunscreen product.