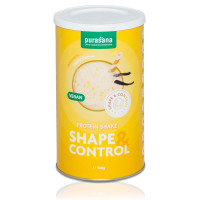 ---
The delicious Purasana vegan protein shake made with easily-digestible pea protein, enriched with fibers and superfoods. This is an excellent addition to a healthy lifestyle, ideal for accompanying any weight-loss diet and perfect support during or after physical activity. Taste: Vanilla Directions: For a healthy lifestyle - Ideal for accompanying any diet aimed at weight loss. During or after physical activity
---
---
Recommended dosage
Mix 30 to 60g with 300-350ml of water, plant-based milk, vegetable juice or fruit juice, and shake for a few seconds in a shaker. Drink immediately or take the shaker with you.
---
Contraindications
---
Guaranteed without
Lactose • Gluten Soy
---
Precautions for use
Keep out of reach of children. This dietary supplement does not replace a varied and balanced diet or a healthy lifestyle.
---
Conservation
Keep dry and tightly close after each use.
---
Composition
Average nutritional values per 100 g Energy 1465 kJ / 347 kcal Fats 4.1 g Don't eat saturated fats 1.2 g Carbohydrates 8 g Don't sugar coat 4 G. 12 g of Fibers Protein 63g Answer: Three Salt
---
Excipients
Guar gum, malt, guarana, Himalayan salt Steviol Glycosides
---
Ingredients
Protein Isolate Powder from Peas (79%), Baobab (5%), Chicory Inulin, Flavor, Coconut Blossom Sugar. Thickening: guar gum Natural vanilla aroma, guarana, Himalayan salt Edulcorant: steviol glycosides