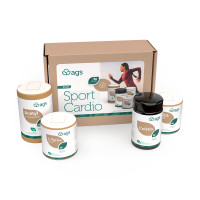 ---
The ultimate Cardio Sport Pack, become proficient over the long run, better recovery, optimization of your physical performance. Origin: Europe Potassium and Magnesium Citrate. Potassium and magnesium contribute to normal muscle function and also help to maintain electrolyte balance. The tyrosine has an antioxidant action that helps to limit cellular aging. In case of intense physical activity, it can stimulate the production of dopamine and have better recovery. L-tyrosine is usually prescribed to promote mental alertness and energy. It effectively combats physical and mental fatigue. CoQ10 is a very powerful antioxidant. It is present throughout the body and is necessary for the production of energy in all cells. CoQ10 is involved in: The transformation of energy supplied by the power source. Cardiac disorders Muscular effort Cancer treatment Aging and Neurodegenerative Diseases Acetyl-L-Carnitine Improve physical performance Boost energy (mitochondria revival) Allows for better energy use during physical exertion.
---
---
Recommended dosage
Alca Vita: 3 capsules per day outside of meals or as advised. L-Tyro Vita: 1 capsule per day from Monday to Friday, away from meals. Take one CoQ10 capsule per day with a meal (either breakfast or lunch). Acetyl L-Carnitine: 1 capsule in the morning and 1 capsule in the evening during meals.
---
Contraindications
---
Guaranteed without
---
Precautions for use
Dietary supplements do not substitute for a varied and balanced diet or a healthy lifestyle. Keep out of reach of children. Do not exceed the recommended daily dose. Store in a dry place.
---
Conservation
---
Composition
Alca" is an acronym for "Automated Language Corrective Agent". Composition for 3 capsules: % DV* Potassium Anhydrous Citrate (K) 900 mg Don't potassium element 324 mg 16.2%". Magnesium Citrate Anhydrous (Mg) 600 mg Don't forget the element Magnesium - 97.2mg - 25.9%. * Reference Nutritional Values Acetyl-L-Carnitine Composition for 2 capsules: Acetyl-L Carnitine 1500 mg CoQ10 stands for Coenzyme Q10. Composition per capsule: Co-enzyme Q10, 200mg Mixture of cranberry/blackcurrant extract (MitoActive ™) 150 mg Do not contain 10% polyphenols Liposomal Vitamin C Don't take ascorbic acid 80mg 100% of the nutrient reference value* Vitamin B1 (Thiamine Hydrochloride) Don't forget to take Thiamine Base at 3.3mg which is 300% of the Nutrient Reference Value. Ingredients per capsule: L-Tyrosine 550 mg" translates to "L-Tyrosine 550 milligrams".
---
Excipients
---
Ingredients
Acetyl-L-Carnitine, capsule: Pullulan. Alca, Anhydrous Potassium Citrate, Anhydrous Magnesium Citrate, Capsule: Bovine Gelatin. Co-enzyme Q10, blend of cranberry (Ribes rubrum) extract / blackcurrant (Ribes nigrum) (MitoActive™), pullulan capsule, liposomal vitamin C, nicotinamide, riboflavin, thiamine chloride, magnesium carbonate. English translation: "L-Tyrosine, Capsule: Pullulan.