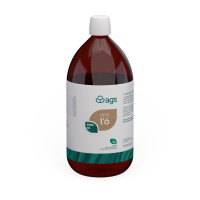 ---
Vita l'Ô is a Hypertonic water, also called Quinton Water or Quinton Plasma. She is an extremely rich natural resource in minerals and trace elements. We owe the discovery of this very special water to biologist René Quinton. After realizing that blood plasma was similar to seawater, since it is composed of the same balance of minerals and trace elements, the researcher investigated a hypothesis: could seawater contribute to the good health of our cells?
---
She is perfect. As part of a detox cure to purify the body and stimulate blood cells. During or just after intense physical or intellectual exertion. To improve the condition of your skin if it is oily, if you have skin inflammations and/or if you suffer from acne or eczema. To clean and rinse the nose, mouth, and throat in case of acute respiratory infections and tonsillitis. Hypertonic water, the asset to deeply hydrate the body.
---
Recommended dosage
Take 10 to 30 ml every day before breakfast.
---
Contraindications
---
Guaranteed without
Dye
---
Precautions for use
Not suitable for low-salt diets or kidney diseases.
---
Conservation
Refrigerate after opening.
---
Composition
Marine Plasma 30 ml Don't consume 311.76 milligrams of sodium. Don't chloride 573.84 mg Don't have potassium 11,691 mg. Don't have 12,348 milligrams of calcium. Don't consume Magnesium 39.72 mg. Don't phosphorus 0.1128 micrograms. Don't fluoridate 26.1 µg. Don't molybdenum 0.30 μg Don't add Iodine 0.93 micrograms
---
Excipients
---
Ingredients
Marine Plasma (Hypertonic Solution of Sea Water)