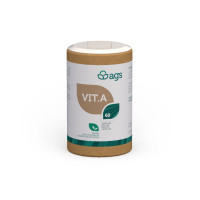 ---
Natural source of vitamin A, an antioxidant fat soluble vitamin needed for vision and bones, as well as healthy skin, hair and immune system!
---
What is Vitamin A Vitamin A is a fat soluble vitamin essential for the body! In the body of humans and animals, vitamin A is found as a group of closely related substances in their chemical structure, which includes retinol and other retinoids (retinoic acid, dehydroretinol). These natural derivatives of vitamin A have similar biological activity. In foods of plant origin, it is found as carotenoids, the metabolic precursors of vitamin A, called provitamins A. The most important and best known of these is β-carotene. What are its benefits ? Vitamin A is an antioxidant fat soluble vitamin. It is necessary for vision and bones, as well as for healthy skin, hair and immune system. Retinol: Is involved in redox processes Is involved in the regulation of protein synthesis Promotes optimal metabolism, function of cell and subcellular membranes Plays an important role in the formation of bones and teeth, as well as fatty deposits Is necessary for the growth of new cells Slows down the aging process It has a regenerative effect on the reproductive system of men and women and increases the activity of hormone production sexual Vit deficiency. AT Against the background of vitamin A deficiency, the organ of vision is the first affected. This is manifested by xerophthalmia with the development of blindness in children. At the same time, secondary immunodeficiency also develops, most often accompanied by infections of the respiratory tract and genitourinary system. With prolonged insufficient intake of vitamin A (hypovitaminosis), the first signs of retinol deficiency are follicular hyperkeratosis and general dryness of the skin and mucous membranes (eg, the conjunctiva). A decrease in the eye's adaptation time to twilight conditions (night blindness) is also observed.
---
Recommended dosage
1 capsule per day during meals or as advised by your healthcare professional.
---
Contraindications
No
---
Guaranteed without
• Gluten free • Lactose free • Without Conservative agent • Without colouring
---
Precautions for use
Food supplements are not a substitute for a varied and balanced diet or a healthy lifestyle. Keep out of the reach of children. Do not exceed the recommended daily dose.
---
Conservation
Store in a dark, dry place at a temperature between 15 and 25 ° C.
---
Composition
Composition for 1 capsule: VNR Vitamin A 1197µg 150% Vitamin E (natural) D-α-tocopherol 12mg 100%
---
Excipients
No
---
Ingredients
Halibut liver oil, capsule: fish gelatin, humectant: glycerol and water.