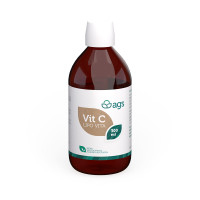 ---
Vitamin C in liposomal formula for increased absorption and effect!
---
Vitamin C is one of the most potent water-soluble non-enzymatic antioxidants and therefore has a high capacity to scavenge free radicals, allowing normal metabolic function. At high doses, it positively impacts various cases such as: - inflammatory states - Stress - Chronic fatigue - ... At very high doses, vitamin C acts even on more serious cases such as cancer or degenerative diseases. However, intestinal tolerance to vitamin C can be restrictive and force very regular intakes. In this sense, liposomal technology responds perfectly by adapting to high doses and for long periods of time thanks to its liposomal envelope. The latter is made up of phospholipids and completely covers the active ingredient, thus protecting it from stomachale acidity and facilitating its transport through the intestinal barrier. In addition, the liposome opens only if it encounters a surface of the same nature, which implies that it will release vitamin C only on contact with the cell, since the latter is surrounded by a cell membrane made of phospholipids. In other words, the action of the liposome is targeted! This results in an increase in the intestinal tolerance limit and an increase in bioavailability which thereby reaches 98%. In conclusion, 1 g of liposomal vitamin C will have the same effect as 20 g of classic vitamin C. Efficiency multiplied by 20!
---
Recommended dosage
Three doses of 1 ml per day in one take, either 3 pressures or as advised by your healthcare professional.
---
Contraindications
No
---
Guaranteed without
• Gluten free • Lactose free • Without Conservative agent • Without colouring
---
Precautions for use
Do not exceed the recommended daily dose. Keep out of the reach of children. This food supplement does not replace a varied and balanced diet or a healthy lifestyle.
---
Conservation
Store preferably away from light and moisture. After opening, keep in a cool place.
---
Composition
Composition for 1 dose, i.e. 1 ml: VNR Sodium L-Ascorbate 244.2 mg of which vitamin C 217 mg 272%
---
Excipients
Composition of the liposomal envelope: sunflower lecithin, glycerol, purified water
---
Ingredients
Glycerin, Purified Water, Sodium L-Ascorbate, Sunflower Lecithin, Ascorbic Acid.