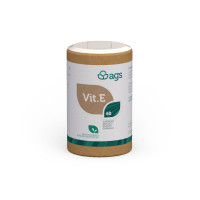 ---
Vitamin E from natural sources is a fat soluble vitamin that has important antioxidant and radioprotective effects!
---
What is Vitamin E? Vitamin E is a fat-soluble vitamin which has important antioxidant and radioprotective effects (protection from the harmful effects of ionizing radiation)! It participates in: - the biosynthesis of heme (constituent of various hemoproteins: hemoglobin, myoglobin, catalase, peroxidase, cyclooxygenase and cytochromes) and proteins - cell proliferation - other important processes of cell metabolism Vitamin E improves tissue oxygen uptake. It has an angioprotective action (strengthens the resistance of blood capillaries, thus limiting edemas, hematomas and by extension, protecting the largest blood vessels, veins and arteries), affecting the permeability of blood vessels and stimulating the formation of new blood capillaries . It also has an immunomodulatory effect (stimulation of the body's immune system) due to the stimulation of the immunity of T lymphocytes. In addition, vitamin E is essential for reproductive processes: Fertilization Fetal development Formation and function of the reproductive system Vit deficiency. E Vitamin E deficiency can cause: - hypotension - Skeletal muscle dystrophy - An increase in the permeability and fragility of capillaries - Degeneration of photoreceptors leading to visual impairment - Decreased sexual function in men - Menstrual irregularities as well as a tendency to miscarriage in women - The development of hemolytic jaundice in newborns, as well as a malabsorption syndrome
---
Recommended dosage
1 to 3 capsules per day during meals.
---
Contraindications
No
---
Guaranteed without
• Gluten free • Lactose free • Without Conservative agent • Without colouring
---
Precautions for use
Food supplements are not a substitute for a varied and balanced diet or a healthy lifestyle. Keep out of the reach of children. Do not exceed the recommended daily dose.
---
Conservation
Store in a dark, dry place at a temperature between 15 and 25 ° C.
---
Composition
Composition for 1 capsule: Natural vitamin E (d-alpha-tocopherol) 10 mg 83%
---
Excipients
No
---
Ingredients
Cod liver oil *, capsule: bovine gelatin, humectant: glycerin. * From sustainable and eco-responsible fishing, MSC certified