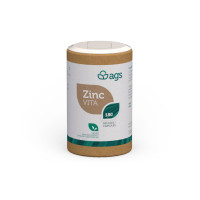 ---
Zinc bisglycinate (22.5 mg).
---
This aminochelated zinc formula in the form of bisglycinate is the most bioavailable and the best absorbed by the body.
---
Recommended dosage
1 capsule / day or as recommended.
---
Contraindications
Zinc supplementation can lower glycosylated hemoglobin levels in people with diabetes. Contraindicated for people taking potassium-sparing diuretics.
---
Guaranteed without
• Gluten • Yeast • Lactose • Soy • Sugar • Preservatives • Synthetic flavors, fragrances and colorings
---
Precautions for use
Zinc and copper cannot be taken together. They are antagonists. When zinc is used for more than 60 days at a dosage of 60 mg / day, always supplement with copper. Take zinc in the morning and copper in the evening, and vice versa. When zinc is used for a very long time (more than 6 months), it is best to take a multivitamin as well. Take zinc separately from all mineral vitamin supplements containing iron or copper. Do not exceed the recommended daily dose. Keep out of the reach of children. This food supplement does not replace a varied and balanced diet or a healthy lifestyle.
---
Conservation
Store in a dark, dry place at a temperature between 15 and 25 ° C.
---
Composition
Composition for 1 capsule:% AR Zinc bisglycinate 75 mg of which element zinc 22.5 mg 225%
---
Excipients
No harmful excipients
---
Ingredients
Organic acacia fiber, zinc bisglycinate, capsule: pullulan